Capabilities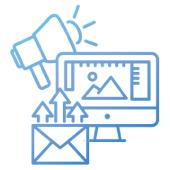 Website Design & Marketing
What's the value of a visually appealing, easy-to-use website, built for your customers or members? It's hard to measure its worth because so much of your success is riding on the site and its usability.
Jack Henry Digital offers beautiful site design, security, and hosting. Our knowledge and expertise lie with financial institution sites. Everything, from information architecture to content to strategic advertising, is tailored to your institution. Intelligent marketing tools match your website visitors with information and ads relevant to them, and then give you actionable data analytics.
From design to content management and security, we've got websites covered.
Get a beautiful, easy-to-manage website that tells your financial institution's story.
Get in touch with a Jack Henry Digital expert to explore the options.
CONTACT US