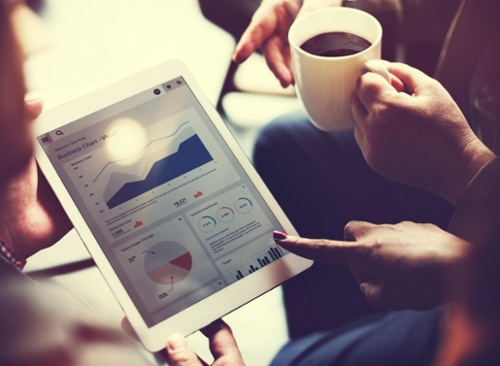 The financial industry is in the middle of a generational shift, as digital natives become a larger part of financial institutions' (FIs) user base.
Adoption and promotion of online financial management (OFM) are meant to maximize user experience and engagement with FIs, yet there are key challenges in delivering user delight:
Inability to provide sufficient support for a highly scalable workload

Lack of user insights, agile systems, and processes for user retention

Digital disruption by third-party payment providers, social media, and alternative currencies

Lack of a collaborative platform (involving the user and FI), increasing the complexity of decision making
Given these challenges, FIs need to adopt a comprehensive OFM solution enabling the realization of three key benefits – improved user engagement, internal cost reductions, and increased revenue.
We have identified the key features of an OFM solution that are essential to provide personalized user engagement and enable enhanced, relevant dialog and collaboration.
OFM is a Remarkable Enabler
Every FI wants to be the primary one for its accountholders. But are you that institution?
Careful and comprehensive adoption of a quality OFM has the potential for a win-win for the FI and its users, enhancing and enriching digital experiences on your platform.
Many studies of consumer behavior reveal that a remarkable percentage of people procrastinate when it comes to financial management. It's not exactly something that any of us enjoy or look forward to doing.
That's why user experience (UX) design becomes a key tool for keeping OFM users engaged. Every FI has plenty of account holder data, but the trick is to enhance that data so users see benefits on the front end, while you reap benefits on the back end.
That also means near-real-time analytics are needed and expected, particularly as it pertains to millennials. Instead of looking for a full-fledged real-time analytics infrastructure, which can cost seven figures to build or license, a "lighter on the wire" (apps and APIs that take up little bandwidth but perform better) OFM analytics engine can connect seemingly disparate financial events to create an actionable strategy for both the FI and its account holders.
The Key Benefits of OFM
There are quantifiable and non-quantifiable benefits of OFM and they tend to land into three groups:
improved user engagement

cost reduction

increased revenue from various sources
All these benefits could help FIs increase user loyalty and improve new account holder acquisition through differentiated offerings.
Enhanced Data Means Enhanced User Engagement
Tailored advice for user: Consumer insights from money management lead to more consistent, automated, and efficient financial advice as these insights are derived from spending categorization and behavior analysis.
Improved user care: FIs can collect insights from financial management and analytics of omni-channel banking activities of users across other FIs. A robust OFM provides crucial information facilitating better interaction with users on both the opportunities and risks of their experience.
Reduced credit risk: With deeper insights into the financial situation of accountholders, FIs can identify risky users and provide lending services in direct proportion to a users' needs. That lessens default risk and each loan is better suited for each user.
Cost Reduction Expands Your Margins
Increased adoption of online banking: FIs can drive the adoption of online banking with OFM tools.
More electronic payment usage: OFM encourages users to use electronic payments in place of cash because electronic payments are usually categorized automatically as online money management while cash payments are not.
Reduced cost on paperwork: The proportion of online users who have given up paper statements remains low. Providing users with easy-to-use online financial overviews can encourage users to abandon paper statements.
OFM Boosts Your Top and Bottom Line
Better cross-sales: A powerful OFM platform allows FIs to better understand the needs of individual account holders by use of enhanced data to personalize marketing messages. This allows FIs to take advantage of cross-sell and upsell opportunities to deliver more relevant, meaningful offerings. Around 85% of FIs globally consider that a well-designed OFM solution could help them increase revenue from cross-selling by more than 20%.
More marketing opportunities in online banking: With the growing adoption of online and mobile banking, a robust OFM platform helps FIs draw attention to product and service offers available within the online banking channel. It is also a powerful tool for strengthening and deepening FIs lifecycle management with their account holders. Tight integration with the core and the online banking provider is imperative.
Monetizing Your Digital Investment in OFM
Not every OFM gives you the power to unify your UX, messaging, and tools. Make sure your OFM can deliver three key components for your accountholders.
Enriched data
Every FI already has tons of data. Making this data relevant and accessible both internally and for your users can be a game changer. As you develop your digital platform, make sure data enrichment is a central tenet. For your account holders, getting a snapshot of their total financial pictures – where all their financial data can be aggregated – makes using that data convenient and approachable. For you, that data provides new insights to better customize offers for your users.
A comprehensive, secure platform
APIs, responsive tiles, and SSO are key to a dynamic online experience for your users. Custom APIs are the backbone of a unique UX that makes interacting with the FI as frictionless as possible. And responsive tiles are the visualization of that core. Responsive tiles also provide users with a fast way to see the information they want to see, without having to "build" their experience every time. Also, when you have these two assets working together, you have a powerful UX that is so light on the wire that it's a pleasure for mobile users.
An easy, robust experience
Aggregating data from users' accounts means you have created a one-stop shop for their financial needs.
All these features add to a high-touch, individualized approach to working with your account holders. Ultimately this is the kind of transformative technology that reinforces the value of FIs in the first place – user-driven financial services.
What's more, once you build a robust UX, all the shiny tech that is coming can be integrated into this and further leverage your opportunities.