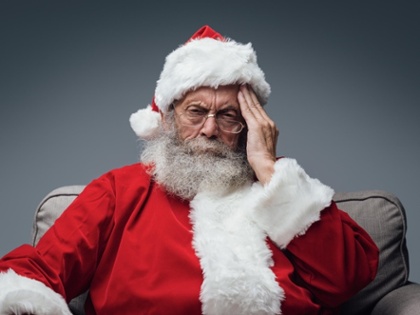 It's a family tradition during the holidays to acknowledge our blessings and express thanks for the many opportunities and privileges we have. Despite recent stock market volatility, there's still so much to be grateful for, and there are some indicators to support an optimistic future:
The forecast for holiday spending this year reflects strong consumer confidence in the economy. Americans are projected to increase spending this season by almost 6%, spending more than $1 trillion, marking the strongest growth since 2011.

[1]

The unemployment rate fell to 3.7%, the lowest since December 1969, and appears to be holding steady.

[2]

More American households are participating in traditional financial services. The number of U.S. households without a bank account fell to 6.5% in 2017. The FDIC attributes this to improvements in the socioeconomic circumstances of U.S. households

.

[3]
The future looks bright – but looks can be deceiving. Underpinning this cheery outlook is a dark secret about Americans' financial state. A new study from the Center for Financial Services Innovation (CFSI) reports only 28% of Americans can be considered financially healthy. CFSI identified other troubling signs:
Nearly half said their spending has equaled or exceeded their income in the last 12 months.

44% rely on credit cards to make ends meet.

Only 45% have enough to cover three months of living expenses.

42% have no retirement savings.

30% have more debt than is manageable.

[4]
These statistics mirror other research studies. Seventy-eight percent of American workers are living paycheck to paycheck, and 71% report being in debt. Of those in debt, 56% say they believe they will be in debt for the rest of their life.[5]
Another in-depth report by Nonfiction Research called "The Secret Financial Life of Americans" paints a disturbing picture of financial insecurity for many Americans. The report states 37% of Americans have gone to sleep hungry because they didn't have money. What's worse, 5% admit to having taken half-eaten food out of a garbage can.[6]
This data reveals a deception exists behind the happy portrait of conspicuous consumption and prosperity plastered across Americans' social media. The "Secret Financial Life" report asserts that privately, behind closed doors, "a staggering number of Americans are leading double lives when it comes to money." Many Americans are financing the visible parts of their lives by draining their savings and running up debt, activities which may feel good in the short term but over time, exacts both a financial and an emotional toll. According to the American Psychological Association, 62% are stressed about their finances[7]; a Varo Money report says 30% are "constantly" stressed about their finances.[8] People from across the socioeconomic spectrum are affected; even highly compensated workers are not immune to the emotional impact of financial stress.[9]
The effects of financial stress have a broader societal impact. There are negative consequences for the individual's employer. Work-life spillover results in increased absenteeism and decreased productivity. Ten percent of employees report their financial situation had a "damaging effect on their work performance"; employees experiencing financial strain are 10% to 30% less productive than an average employee.[10] Financial stress can also result in health issues and negatively affect relationships.
As financial professionals, do we have a responsibility to ensure we're doing our part to help our customers achieve financial stability? Obviously, there is no one single silver bullet or an easy answer; we can't solve issues beyond our control, like insufficient income or lack of cash flow. But, as a famous Chinese proverb says, a journey of a thousand miles begins with a single step. Here are just a few potential approaches, that when taken together, can become effective tools for bolstering financial stability.
As today's FIs strive to secure their future position in their customers' lives, it will take more than leading-edge technology (which are already table stakes.) Re-imagining the definition of customer-centricity should include tackling these tough problems with powerful, effective solutions. FIs that fail to heed this clarion call run the risk of being displaced by non-traditional providers which successfully address these customer pain points. FIs that offer help and hope have an opportunity to make an indelible imprint on their customers' lives, earning their customers' loyalty and trust.
---
[1] https://qz.com/1452783/us-holiday-sales-2018-to-exceed-1-trillion-for-first-time/
[2] https://www.wsj.com/articles/u-s-unemployment-rate-falls-to-lowest-level-since-1969-1538742766
[3] https://www.wsj.com/articles/u-s-unbanked-population-continues-to-fall-1540316543?shareToken=st54657eac91944d7a893d21fc8bac26d3&ref=article_email_share
[4] https://www.fastcompany.com/90259879/despite-the-good-economy-only-28-of-americans-are-financially-healthy 2/5
[5] http://press.careerbuilder.com/2017-08-24-Living-Paycheck-to-Paycheck-is-a-Way-of-Life-for-Majority-of-U-S-Workers-According-to-New-CareerBuilder-Survey
[6]https://static1.squarespace.com/static/5a7b43aacf81e0ba3c790ef0/t/5b6b47370e2e72c54d11e208/1533757256119/Nonfiction_TheSecretFinancialLivesofAmericans.pdf
[7] https://www.bankrate.com/personal-finance/motivate-yourself-to-improve-finances/?pid=email&ic_id=3449936&omhide=true&brid=8824264&ttcid=3449936&utm_campaign=bankrate_weekly_20181109&et_cid=3449936&et_rid=71747904&utm_medium=email&utm_source=email_newsletters&
[8] http://www.prweb.com/releases/2018/03/prweb15293756.htm
[9]https://static1.squarespace.com/static/5a7b43aacf81e0ba3c790ef0/t/5b6b47370e2e72c54d11e208/1533757256119/Nonfiction_TheSecretFinancialLivesofAmericans.pdf
[10] http://www.employment-studies.co.uk/pubs/summary.php?id=464
[11] https://thefinancialbrand.com/75310/american-money-management-trends/
12 https://thefinancialbrand.com/75310/american-money-management-trends/
[13]https://static1.squarespace.com/static/5a7b43aacf81e0ba3c790ef0/t/5b6b47370e2e72c54d11e208/1533757256119/Nonfiction_TheSecretFinancialLivesofAmericans.pdf
[14] https://thefinancialbrand.com/73741/personal-financial-management-pfm-artificial-intelligence/
[15] https://thefinancialbrand.com/73741/personal-financial-management-pfm-artificial-intelligence/
[16] https://www.federalreserve.gov/newsevents/pressreleases/other20170519a.htm
[17] https://static1.squarespace.com/static/5a7b43aacf81e0ba3c790ef0/t/5b6b47370e2e72c54d11e208/1533757256119/Nonfiction_TheSecretFinancialLivesofAmericans.pdf
[18] https://www.bankrate.com/banking/savings/set-aside-your-spare-change-with-these-money-saving-apps/
[19] https://www.occ.gov/news-issuances/bulletins/2018/bulletin-2018-14.html
[20] https://www.americanbanker.com/opinion/momentum-is-building-for-small-dollar-loans?utm_campaign=bankthink-c-Sep%2013%202018&utm_mediu…
[21] https://www.amazon.com/gp/product/0544602315/ref=as_li_qf_sp_asin_il_tl?ie=UTF8&tag=ttg04-20&camp=1789&creative=9325&linkCode=as2&creativeASIN=0544602315&linkId=903e3663b6dadbb5bfc96f7098cab38f
[22] https://www.pewtrusts.org/en/research-and-analysis/issue-briefs/2017/04/payday-loan-customers-want-more-protections-access-to-lower-cost-credit-from-banks
[23] https://www.usatoday.com/story/money/personalfinance/2018/06/12/neighborhood-bank-may-now-offer-short-term-small-dollar-loans/691259002/
[24] https://www.occ.gov/news-issuances/bulletins/2018/bulletin-2018-14.html