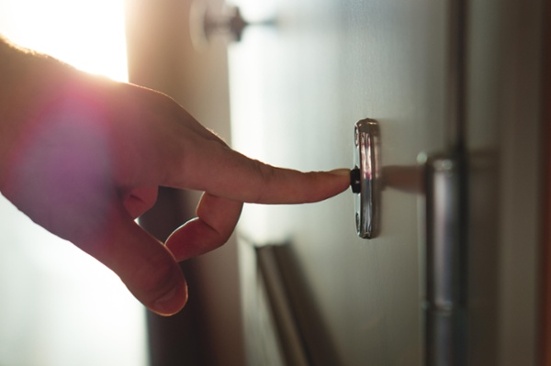 The other day, my doorbell rang. I work from home and take several conference calls every day – so when the doorbell rings (pardon me), all hell breaks loose. The dogs go bonkers. My child's home on summer break. There's yelling. If I'm on the phone, I have to scramble to mute myself, sequester the dogs, and try to contain the chaos.
The thing is I currently have three no soliciting signs on my front door. I have an extra one that I tape on my doorbell during conference calls! My town has a "permit program" which very much discourages door-to-door sales, by requiring a permit and a badge as well as close adherence to posted no soliciting signs. So much for that. I ignored the doorbell and moments later was greeted by loud, persistent knocking. OK, maybe it's an emergency? Maybe it's a package I'm not expecting that requires a signature? My neighbor is stopping by for a cup of sugar?
Nope, it was a painter going door to door looking for business. I answered the door and stepped out on the front stoop to keep my pooches contained inside. He began the sales spiel. I interrupted and pointed out the signs. He continued. The dogs barked. I interrupted again and told him I have a strict policy of never buying anything from someone who comes to my door. He still was talking when I went back inside. It's ironic because I'm in sales. You might think I'd give the guy props for the chutzpah it took to knock despite my signage. Nope.
You see, I believe in relationships.
Why do you buy from who you buy from? What drives your decision to go with a certain partner? Is it cost? Peer recommendation? Is it that gut feeling when you get to know them? For me, as a former banker and a person who currently sells to banks and credit unions, I think about this a lot. And, it can vary from FI to FI, quite honestly. But the bottom line is usually that there's a measurable, tangible benefit for a financial institution to choose one partner or product over another. Are you looking at gaining efficiencies? Are you looking for cost reduction? Positioning your bank for sale? Looking for future acquisitions? All of these are factors that can impact the route you take when looking at potential vendors.
Let me challenge you to take that one step further.
Instead of vendor relationships, look for partnerships. Look for people and a culture who will add value at your institution. Who will help you solve problems in ways you didn't think possible previously. People who help you see things in a new light, with fresh insights. People who will be there for you in the long haul. A vendor is selling you something today, whereas a partner wants to work with you and your FI for life. It doesn't matter where your career takes you. A partner will follow you on your journey, rooting for you all the way.
Think about this as you approach budget season. Do the companies your FI does business with "get" you? Are they in your corner chanting your name, or are you just a number to them? Think about the sales folks you work with, and which of these fits your interactions with them:
Vendor: Unresponsive/Poor service after the sale
Partner: Responsive/Invested in your success from day 1 (and all the days after)
Vendor: Sells Widgets
Partner: Sells Solutions
Vendor: Pushy/doesn't ask questions
Partner: Trusted advisor/adds value by working to understand you
Vendor: Keeps ringing the doorbell
Partner: Respectful of your requests
I hope you have the experience of partnership. It's a pretty awesome feeling when you have that type of business connection. Don't say "yes" just because someone knocks on your door – make sure the people you buy from are invested in you and your FI.