A buzz term we hear a lot these days is GAFA – an acronym for Google, Amazon, Facebook, and Apple. The expansion of services offered by these tech giants (and others) is considered one of the biggest threats facing the financial services market. For the sake of this blog, I'm going to pick on Amazon, since it seems to have successfully moved into the small business lending space.
"We've had three big ideas at Amazon that we've stuck with for 18 years, and they're the reason we're successful: Put the customer first. Invent. And be patient." Jeff Bezos, CEO, Amazon
Since its IPO in 1997, Amazon stock has grown more than 42,000%. One may argue this feat alone has already disrupted the financial market. Which is true … but it's not just finance. Amazon is disrupting ALL markets. They are reaching into every aspect of consumer needs. Even giants like Walmart are following their tactics in retail and grocery, not wanting to be outdone. One might compare it to the game of Monopoly, with Amazon owning Boardwalk, Park Place, and most of the real estate with houses. Will it add hotels? Will it eventually buy the railroads and utilities? Become the banker? When it gets to this point, the game is no longer fun and everybody's ready to quit. Fortunately, that's easy to do when you're playing a board game.
Whatever the market thinks … Amazon thinks bigger. The fear in our industry has always been that Amazon had set its sights upon becoming a bank. But really, their true goal has always been much bigger: to be the one resource for all of their consumers' needs. This is evident in their business model below.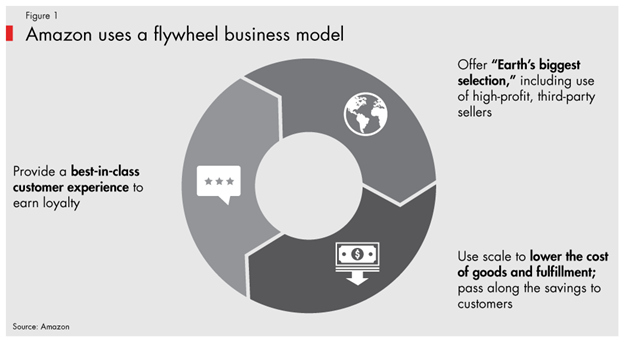 Since its launch in 2011, Amazon Lending has surpassed $3 billion in loans to small businesses (SMBs). And, more than 50% of those companies eventually applied for a second loan from Amazon. By providing loans for working capital to merchants selling on Amazon (i.e., helping SMBs grow their business), Amazon Lending supports an ongoing resource driving transaction through their marketplace platform. Amazon already offers two consumer credit cards through JPMorgan and Synchrony Financial. Adding a card offering specifically for small businesses will assist in providing more liquidity to its merchant base.
Amazon is now reportedly talking to major banks about partnering to build a checking account-type product and a small business credit card offering. By partnering with a large-tier bank, Amazon can skip the step of applying for a bank charter and offer banking type products and services without the hassle of dealing with the level of regulations and scrutiny that banks face. It could also save the cost and effort of building banking applications from scratch, allowing it to launch and scale into a targeted audience more quickly and with less friction. Partnering gets Amazon there faster and with more ease.
It's still not clear if the current talks will result in actual banking products, or what services Amazon might offer. But it's apparent that the firm is taking a closer look at ways that it could move into finance and payments more aggressively.
So how can community-based financial institutions (CBFIs) compete?
The advantage CBFIs have is a true customer focus and trusted relationship. Even though researchers say that customers indicate ample willingness to buy financial products from technology firms, and Amazon has earned their trust more than most other tech firms[1], CBFIs live where their customers live. They know the community, the families, and their children. They offer a door where customers can enter and talk to a person face-to-face and a lender they can trust as an advisor. They sponsor little league teams and have community outreach.
However, you must fight fire with fire. CBFIs must accentuate these advantages with innovative digital and device-driven products that expand upon customer experience and convenience. Armed with the right tools, they will be able to compete. They must stay in the game – and play to win.
"…Put the customer first. Invent. And be patient."
[1] http://www.bain.com/publications/articles/bankings-amazon-moment.aspx