Author: Brad Dahlman, bdahlman@profitstars.com
Most bankers I talk to these days are saying two things…
First, they are thankful to have weathered the financial downturn and feel somewhat optimistic about an economic recovery. Second, they are all focused on improving profitability as a way to strengthen their balance sheet.
Any accountant can tell you that improving profitability is rooted in either higher revenues, lower costs, or a combination of both. With weak loan demand and increased regulatory focus on fee income, many financial institutions (FIs) are taking a much harder look at expenses.
A significant portion of the organization's expenses are directly associated with the branch network. This means to make meaningful expense reductions we must take a strategic look at their branch structure.
Branch Growth –
Over the past 40 years, we created a series of products that make the process of "banking" more efficient and convenient for our clients. These products include: ATMs, ACH, telephone banking, online banking, online bill payment, remote deposit capture – just to name a few.
These products have increased customer convenience, reduced costs, and allowed clients to perform most of their banking needs from remote locations. This has had a huge effect in reducing the number of branch transactions. The interesting fact is that while the need for clients to come to a branch has decreased the number of branches has almost tripled!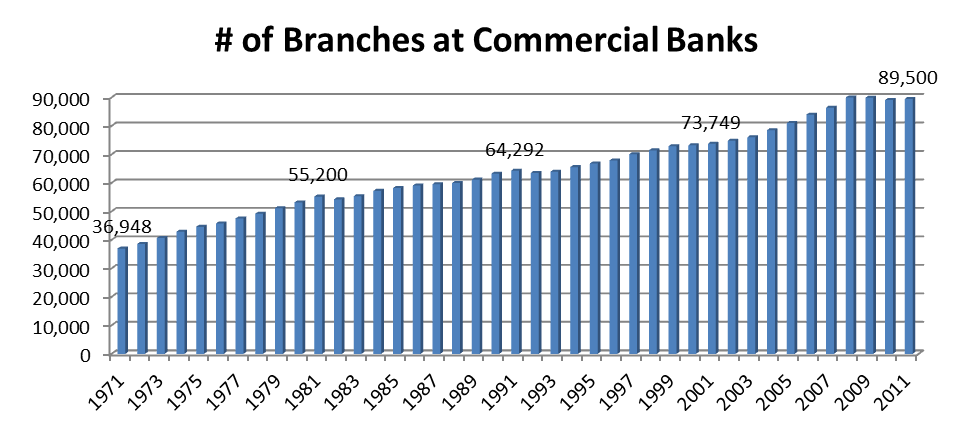 Since 1971, the number of branches at commercial banks has grown from 36,948 to 89,500! If you bring in savings banks, thrifts and credit unions we have over 100,000 FI branches in the U.S. Branch expansion over the past 40 years has been 3.56% annually, which is more than double the rate of population growth (1.26%).
How many branches are enough?
First, let me state that I believe there is a need for FIs to have branches. Branches are a primary spot for client/banker interaction, a primary location to open new accounts, and a place to ask complex financial questions.
My question is NOT "Do we need branches?" but rather "How many branches do we need?"
If we are committed to improving profit partially through expense reductions, then we must stop looking at our overall branch environment as purely "fixed costs" but rather as "semi-variable costs". From a financial perspective semi-variable costs are partly fixed and partly variable. I believe that a certain fixed number of branches are required (i.e. "fixed costs") to support your clients base. We should identify how many we need versus how many we currently have.
The number needed depends on many factors including: the geographic distribution of your clients/marketplace, mobility of your clients, growth rate at your FI, penetration of "alternative" delivery products, and competitive nature of your marketplace.
If you manage a mid-sized community bank with 10 locations … perhaps you have 8 "required branches" to support your FI and two that might be excess? The next question is if you consolidate branches which two would you close?
Evaluating branches for potential consolidation?
Much has been written about branch closures and finding your "zombie branches". While finding and closing these branches may be challenging, it is essential. There is no "one size fits all" answer to evaluating a branch network, but I will try to outline major things to consider. A good place to start is by gathering some historical branch information to compare branches and look at trends. I would suggest:
Customer Counts
Transaction Counts
Balances
Profitability
Number of new accounts (per month)
This information will give you a good sense of which branches are your top performers and which ones might be candidates for consolidation. For those candidates for consolidation, there are a few strategic questions to ask including:
Do we have other branches in close proximity?
What would the attrition rate be if we closed the branch?
What affect would there be on future client/account growth rates?
Is there a strategic reason to keep this branch open?
What costs could be eliminated by closing the branch? (people/occupancy/telecommunications)
Should we "downsize" the branch rather than close the branch? Or could we put in a full service ATM?
I realize the prospect of closing a branch is scary, but I believe that 100,000 FI branches around the country isn't sustainable. Many large FIs have already started down this road with Nations Bank (767) and Bank of America (178) together closing 945 branches in the past year.
We all joke that there is a Starbuck's on every corner – right? Well, did you know there are only 11,100 Starbucks locations in the U.S. and almost 10X as many branches!
It is time for each organization to take a closer look at their branch structure and make some hard decisions that will drive down costs and improve profitability. What is your branch strategy for 2013?