Capabilities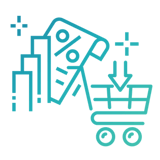 Online Loan Marketplace
Current annual loan trading volume in the U.S. is between $500B - $1 trillion, involving approximately 20,000 institutions and brokered entirely through personal networks by phone. This antiquated system for loan trading, selling, and participation hasn't changed for decades, and lacks the transparency needed for efficient monitoring.
With the Jack Henry Loan MarketplaceSM, you can now research, prospect, and trade online using a fully digital experience that's at your fingertips 24/7. It will help with increasing liquidity, offsetting risk, and managing your loan portfolio more strategically.
Start researching and trading online today in a simplified environment.
Get in touch with a Jack Henry Lending expert to explore the options.
CONTACT US