Capabilities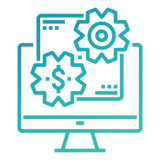 Additional Lending Services
With Jack Henry Lending, you can choose from a variety of enhancements designed to help you create stronger relationships with modern borrowers. These complementary tools provide an extra layer of risk mitigation and include options to support your efforts while lending to a specific vertical, managing your portfolio, extra monitoring, or verifying documentation.
Learn more about our specialized tools and services made to fit your individual circumstances.
Get in touch with a Jack Henry Lending expert to explore the options.
CONTACT US