Capabilities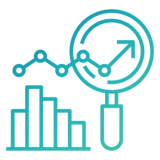 Commercial Finance
Businesses experiencing cash flow challenges – such as rapid expansion, slow payments, irregular or seasonal business, or supply chain interruptions – need working capital solutions that can fund their growth. Accounts receivable (A/R) financing and factoring help businesses get off the ground and weather challenging times.
Our commercial finance solutions help banks, credit unions, and alternative lenders diversify their portfolios. Whether you want to provide an A/R financing solution (that's fully supported by our staff) or run your own factoring operation, we have the time-tested, industry-leading tools to power your success – including advanced monitoring and controls to effectively manage risk.
Help small businesses in your community get the financing they need.
Get in touch with a Jack Henry Lending expert to explore the options.
CONTACT US