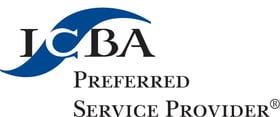 Future-Ready Banking with Jack Henry
As a Preferred Service Provider serving community banks, Jack Henry brings ICBA members education, exclusive incentives, and core-agnostic technology to create a high-tech, high-touch environment, including:
CECL Solutions - Efficient solutions for today's daunting CECL data collection, validation and compliance modeling tasks.
Conversion Solutions - Reduce costs and save time by securely converting and importing your legacy systems data, as well as M&A content, into current platforms.
Digital Banking Solutions - Our industry-leading digital banking platform works across user devices and is developed with industry-leading technology to deliver a seamless, fast, and forward-thinking experience.
Forecasting & Financial Reporting - Simplify the strategic planning process and forecast the balance sheet more effectively while completing your budgeting and financial reporting all in one place.
Information Security & Risk Management Solutions - Proven risk management solutions empowering you to proactively protect mission-critical data and systems, facilitate IT regulatory compliance, and bolster disaster resiliency.
Lending Solutions - A single, all-digital loan origination and portfolio management platform helps create, underwrite and manage borrower relationships of all types.
Payment Solutions - Modernize your existing payment channels and confidently enter new and emerging ones with Jack Henry Payments. From remittance and bill payment to mobile remote deposit solutions for both the consumers and businesses, our solutions easily integrate with any internet banking provider.
Profitability & Pricing - Discover who your most valuable clients truly are and set pricing and rates that drive profitability.
Performance Scorecard - Effectively manage and reward employees with a single, integrated system that streamlines results tracking and delivers timely performance updates. Also review enterprise-wide, department, and individual achievement in one convenient location.
Web Design & Services - Enjoy a simple, beautiful site with specialized responsive design, content management and hosting services. A targeted suite of security services can help you protect, guard and respond to a potential website attack.
To learn more, contact us today.