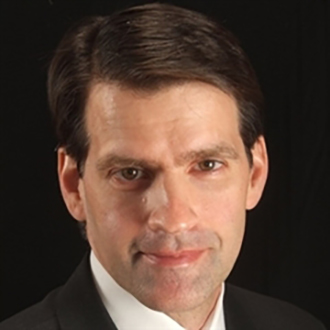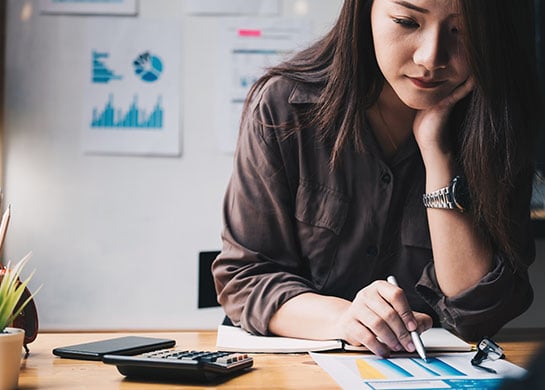 In its 2020 survey of employer firms, the New York Federal Reserve asked a question that had not been posed in previous years: "What action would you take in the event of a 2-month revenue loss?"
That question, as we now know, proved prophetic.
Who knew that the New York Fed employed a soothsayer or that the "Ides of March" would become such a critical turning point for the American economy?
As it turns out, a significant percentage of these employer firms were faced with a 2-month revenue loss spanning between mid-March and May. And, the businesses did exactly what they said they were going to do in the survey.
The result, to date, has been more than 33 million in new unemployment claims, and an unemployment rate north of 14%, numbers we have not seen since the Great Depression.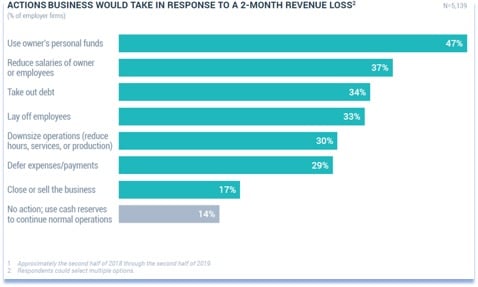 The next question, however, is even more important to the long-term outlook of our economy: How will lenders respond to the increased demand in working capital finance we're likely to see throughout the remainder of 2020?
The current downturn is the first US recession to be led by the service sector. It then quickly spread to other sectors such as energy, manufacturing, wholesale and agriculture.
When considering the industries most impacted by the shutdown, it's easy to see that they will need injections of both long- and short-term capital to restart and begin growing again. As a result, we're likely to experience increased demand in two specific types of commercial lending: Government Guaranteed facilities and secured working capital lines.
This will come at a time when financial institutions may be struggling to control emerging credit risk in other forms of lending, mainly commercial and residential real estate.
The CARES Act resulted in the creation of some short-term lending measures such as the Paycheck Protection Program (PPP) and Main Street, but lenders will be in high demand to pick up from where those programs left off. The re-birth of our economy depends on it.
While Congress debates further measures, the private sector must continue to fill the void.
In their recently published white paper, Dr. Douglas Dwyer and Maitena Pineiro of Moody's performed a financial analysis of these hardest hit sectors to establish how long businesses could survive without additional financing.
The results show us where we're likely to see the most significant loan requests in the months ahead. In almost every case, industries that traditionally rely on either SBA financing or lines of credit to manage day to day operations and to grow are at the top of the list.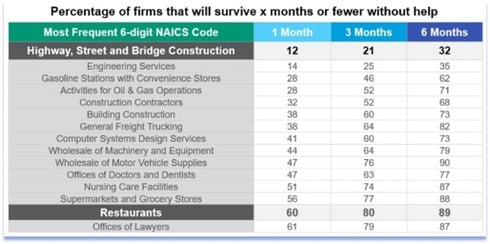 The current economic crisis is completely unique. Lenders and borrowers alike are trying to navigate an unfamiliar landscape; one that brings both challenges and opportunities.
To thrive, they must work together. We have never taken 30 – 40% of our economy offline for two to three months and then tried to reboot it. No one really knows what will happen in this experiment, but we know the financial services industry will continue to play a vital role. How will your institution respond? Do you currently have solutions in place to meet the financing needs that are now at your doorstep? Are you familiar with SBA lending and working capital finance? Is there a strategy you can deploy that will help your organization to see long-term success while also helping your community to re-emerge from the financial crisis?
America has faced greater challenges than we face today, and we will no doubt emerge from current events having become stronger for the experience.
As we consider the roles we will play in the months ahead, we should remember the words of Thomas Paine, penned during the most pivotal crisis in American history, when the stakes were much higher than they are today: "These are the times that try men's souls. The summer soldier and the sunshine patriot will, in this crisis, shrink from the service of their country; but he that stands by it now, deserves the love and thanks of man and woman."
Sources:
https://www.newyorkfed.org/smallbusiness/small-business-credit-survey-2020
https://www.moodysanalytics.com/articles/2020/reopening-main-street