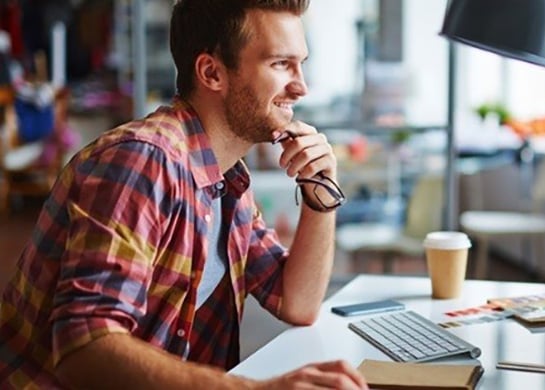 Let's be honest. The digital world makes everyone's lives easier – your customers, your employees, and yourself. So why does your commercial lending division neglect to take that crucial next step into the digital world? Is it fear of losing the personal touch? Online lending isn't meant to replace the relationships that you have worked so hard to create. The goal is actually to improve your business relationships by marrying the digital and the personal. As an added bonus, operational efficiency at your institution is vastly improved.
Here are four keys to building a superior online experience:
Make it Easy. In order to change your customer's mindset when it comes to submitting financial information, you must make change as easy as possible for them. Make it so easy that they will never want to go back to their bad old paper-based ways – or even to email. Put yourself in their shoes; two years of both business and personal tax returns amongst everything else means a lot of documents to submit for a loan. Do they want to email it? Of course they do! That is the easiest route – but it isn't safe. And they definitely do not want to hop in the car to bring you that mountain of paper!

A seemingly small shift in how you allow borrowers to submit their financial packages will go a long way toward winning them over. Provide businesses with a portal for secure digital upload of all financial information.
Make it Appealing. We live in a visual world. When you land on a website that is old or outdated, your first instinct is to run. That's why it's so important to partner with a company that has created a user interface that is easy to follow, responsive, and modern.

The interface affects the borrower's experience as well. Make submitting information through the platform more appealing than the manual method. Give them an incentive, like a quicker response or a financial discount on their origination fee. Your institution will be saving money on the back end by not having to scan all those documents – pass that savings on to your customers.
Increase automation, not just for your customers but also for you. By providing a digital platform for your borrowers to submit their documentation, you are in essence letting them do the heavy lifting – and they don't even realize it. Those documents can be sent right into the loan request without anyone having to scan them, collect them, or move them into your record of file. Automation ensures documents are handled only when questions must be answered, and that makes your life easier too.
Be the leader in your market. I know … that phrase sounds trite. But seriously, by creating a superior online lending experience, you will be creating the ultimate customer experience. There are online lenders out there right now having great success drawing in customers with a polished online lending portal, despite the fact that they are not so great at booking quality loans. Mimic what they are doing right on the front end and get there first in your market. It will pay huge dividends.
Superior customer experience today requires a superior online experience. We've come to accept that on the consumer lending side. Now it is time to follow through with that reality on the commercial side of the house as well.