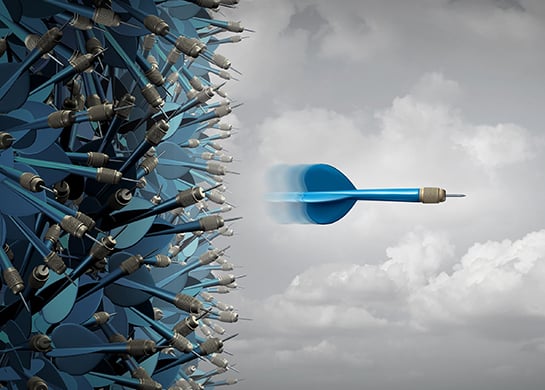 What does a gorilla have in common with emerging payments trends? The answer to this riddle is rooted in a well-known phenomenon in neuroscience called "inattentional blindness" – the failure to notice visible but unexpected objects because attention is being focused somewhere else.
The concept of inattentional blindness emerged in popular culture in 1999, when Harvard University psychologists Daniel Simons, PhD, and Christopher Chabris, PhD, conducted a study where participants were asked to view a film of two basketball teams, and count how many times a basketball passed between members of one team. Half failed to notice a person wearing a gorilla suit walking across the floor mid-game.[1] (If you'd like to test your attention skills, you can view the video.)
By now you may be asking, "What does this gorilla story have to do with payments trend-watching?" We have been conditioned to focus on the "hot topic du jour," elevating the risk of missing important signals of potentially disruptive trends or inflection points. We become so distracted that we miss the proverbial gorilla.
As a futurist and strategist, I'll confess: one of the more challenging aspects of the job is finding time to remain current and "read the tea leaves," or in other words, to discern noise from genuine signals, identify patterns and unexpected wild cards, and avoid "shiny object syndrome" – all with the goal of ultimately identifying the right opportunities at the right time.
Here are just two of the many "tea leaves" that currently look intriguing. These developments address consumer pain points, provide alternatives to payday loans, and underscore the need for immediacy in the modern payments landscape.
Installment Credit at the Point of Sale
When I entered adulthood and finally had discretionary spending dollars, virtually every shopping trip ended with an enticing offer to apply for a store-branded credit card. Today's consumers have options beyond private label store cards and credit cards issued by financial institutions that my generation didn't have. Companies like PayPal Credit, Affirm, and Klarna are attempting to disrupt financial institutions' traditional credit card business by partnering with merchants to offer installment financing at the point of sale. This alternative can be attractive to consumers who are experiencing life's unexpected emergencies, or have reached the limits on their credit cards, or do not have access to traditional credit (such as 70% of Gen Z consumers[2]).
The Filene Research Institute estimates the annual potential size of this market at $391 billion, or approximately 3.5% of annual consumer spending, with healthcare, electronics, and home goods as the leading spend categories.[3] Ranked as the most valuable European fintech, Klarna claims its American customer base is growing at an annual rate of six million new consumers.[4] Another sign of this space heating up – Visa just announced installment payments using the customer's existing credit line, leveraging Visa Next APIs.[5]
Consumers like the ease of applying for credit, instant decisioning, the ability to select terms of repayment, and clear and transparent terms.[6] Merchants that offer this type of alternative credit like it, too – some say it can deliver as much as a 20% lift in sales conversion.[7] More than 25% of consumers have used point-of-sale or instant financing when shopping online, and nearly half would like to be presented with an instant financing option when shopping online.[8]
Don't be tricked into thinking this is just for digital commerce purchases. Earlier this year, Walmart began offering online and in-store shoppers the option of using Affirm to pay over time for purchases ranging from $150 to $2,000.[9] Consumers can select the number of payments and amount due; loans for these purchases are made through Cross River Bank.
Instant On-Demand Pay
In case you missed it, the American workforce has undergone a major transformation. Ten million American jobs created between 2005 and 2015 were not traditional nine-to-five jobs.[10] Did you know that nearly 40% of American workers have participated in the gig economy? More than a third of these workers received pay advances worth $236 billion;[11] and 85% would do more work if they were paid faster.[12] New work scenarios have created a need for modern financial tools. Thanks to new solutions, now every day can be payday for some workers. Lyft's 1.5 million drivers in Canada and the U.S. can "cash out" up to five times per day.[13]
Not surprisingly, gig economy workers aren't the only ones that desire near-instant access to payroll advances. Traditional W-2 employees of companies like Walmart, McDonald's, and Outback Steakhouse have access to on-demand pay.[14] An additional 31.8 million would take advantage of pay advances if it were available to them, contributing an additional $178 billion to this market.[15] Limits on amounts and frequency are typically determined by employers. Companies like PayActiv charge a small fee to the employee for early access to earned, unpaid wages.[16]
Numerous fintechs are getting into the act. The card networks leverage their near-real-time push payment capabilities to make on-demand funds available to workers. Mastercard partnered with Memphis-area Evolve Bank and Trust to provide interest-free, pay advances to hourly and gig workers of their business clients.[17] And just a few weeks ago, Square was granted a patent for "instant payroll deposits," which will allow employees to be compensated for their work immediately. Square plans to use machine learning to assess risk for underwriting.[18] Earnin, DailyPay and ZayZoon offer direct-to-consumer early payday solutions.[19]
These innovations are not without detractors. The National Law Review reports that "these new services may present novel legal issues as regulators apply federal and state lending laws as well as state wage and hour laws to these new circumstances."[20] Twelve jurisdictions have launched investigations into the payroll advance industry and allegations of unlawful online lending.[21] Critics also claim faster access to wages is potentially detrimental, creating a risk of workers "burning through their cash."[22]
Proponents argue there are myriad advantages for employees. The most significant benefit may lie in the peace of mind employees derive from these services, by having the means to handle unexpected emergencies, avoid late fees and reduce exposure to overdraft fees. Faster access to earned wages can be a lifeline in a time of need for the 78% of Americans living paycheck to paycheck,[23] helping to smooth out the mismatched timing of expenses and income. (See my previous Strategically Speaking blog, "The Deceptive State of Americans' Finances".) Ninety-four percent of DailyPay users pay bills with the advanced funds, and almost 3/4 report greater control of their finances.[24]
Employers benefit as well, claiming the service is an advantage in a competitive labor market. Alleviating financial stress for employees can translate to reduced absenteeism and increased productivity on the job. Almost 40% of employees say financial stress is a distraction at work;[25] employees experiencing financial strain are 10% to 30% less productive.[26]
One thing is certain: the only constant in payments is change! It may be helpful to adopt a litmus test for evaluating potential areas to determine if they are worthy of your attention. These attributes may include value delivered to your end-users (including how well innovations address pain points), impact to status quo, and action required to respond to emerging trends.