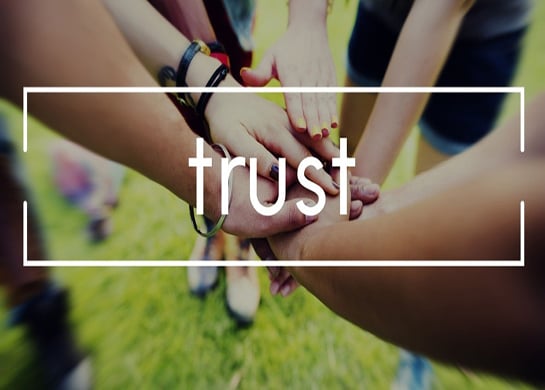 I was recently discussing our talent management strategy process with a consultant and he shared a memorable trust formula:

This resonated with me because I was able to flip through my personal and professional relationships like an old Rolodex and think about who I trusted and who I didn't. I could think of a name and then pinpoint what portion of the equation was missing.
Think about what each of these variables mean to you. Wrap your personal experiences and thoughts around each of these definitions from Charles H. Green of Trusted Advisor (follow him on Twitter):
CREDIBILITY has to do with the words we speak. In a sentence we might say, "I can trust what she says about intellectual property; she's very credible on the subject."

RELIABILITY has to do with actions. We might say, "If he says he'll deliver the product tomorrow, I trust him, because he's dependable."

INTIMACY refers to the safety or security that we feel when entrusting someone with something. We might say, "I can trust her with that information; she's never violated my confidentiality before, and she would never embarrass me."

SELF-ORIENTATION refers to the person's focus. In particular, whether the person's focus is primarily on him or herself, or on the other person. We might say, "I can't trust him on this deal — I don't think he cares enough about me, he's focused on what he gets out of it." Or more commonly, "I don't trust him — I think he's too concerned about how he's appearing, so he's not really paying attention."
Each portion of the equation is critical. The great news is that no one has this formula flawlessly balanced, so there's no perfection pressure! As tempting as this method is to use on others, we could use it as self-development. I encouraged my team to spend some reflection time on this one because if you don't have trust – you have nothing. Below are the instructions I gave to my team. I encourage you to join the exercise, too.
As you reflect, be cautious of this: don't get so caught up in what you don't have, that you forget what you do have.
---
Related: Relationship Building: Today It's All About Retention
---
Below are some questions to ask yourself as they relate to the equation. Don't be too quick to say, "I'm good here."
Do I have expertise in my area? (Credibility)
Do I "toot my own horn" about my abilities when around others (which doesn't build credibility, by the way)? (Credibility)
Am I constantly growing and learning in my field? (Credibility)
Do I consistently show up to meetings when scheduled? (Reliability)
Do I cancel engagements last-minute/decline without proposing a new time? (You can go through your Outlook items and see how consistent you are here.) (Reliability)
Am I respecting other people's time, or do I expect them to run by my appointments? (Reliability)
Do I deliver my product/output on time and with the quality intended? (Reliability)
Do people come to me with wild and crazy ideas because they know I'll listen with an open mind? (Intimacy)
Do people share with me how they feel? (Intimacy)
Which servant-leadership principle that we've learned thus far do I most struggle with? (Each of the principles have a direct tie to Intimacy)
Do I want to get ahead in my life, or do I want to better the lives of others? (Self-Orientation)
Are you more focused on how you'll respond versus what someone else is communicating? (This is a BIG one – we can all get better at this.) (Self-Orientation)
These are just some questions to get you thinking. I'd like for you to consider your own Trust Equation and reflect where you are strongest and where you want to improve. If you REALLY want to challenge yourself – you'll ask a trusted peer, spouse, or friend to give their honest take on it. Be sure that you don't dispute or defend yourself – it is what it is. We all have blind spots and that's okay. The goal is to grow through it.
Onward and upward!
---
Tiffany Haynes is the Human Resources Managing Director for Monett, Missouri-based Jack Henry & Associates, Inc.® (NASDAQ: JKHY), a leading provider of computer systems and electronic payment solutions primarily for financial services organizations. Haynes began her career in 1999 at Artic Coastal Transport in Purdy, Missouri as a Payroll Specialist. In 2002, she joined JHA as a Customer Support Representative in the Corporate Call Center. Since then, she has served the company as Communications Specialist for the PeopleSoft Implementation, Corporate Project Manager, Human Resources Administration and Communications Manager, Human Resources Senior Manager, and most recently, Human Resources Director.