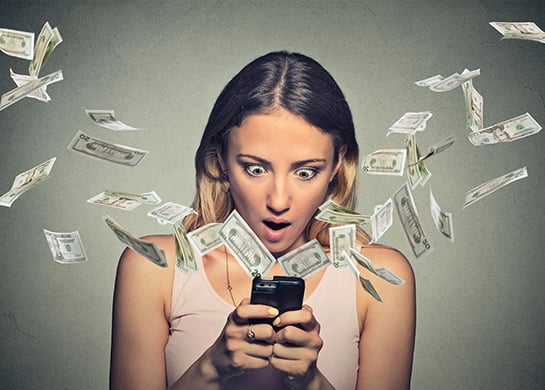 Do you ever feel like you are caught up in a whirlwind? That happens every so often, when there is so much change that it is challenging to absorb it all. It is hard to know what is meaningful and attention-worthy, and how to distill the important nuggets into strategic decisions that best position you for the near term and beyond.
The payments world is experiencing one of those whirlwind periods: fintech innovation, mega-mergers, ramped up competition from non-financial brands, and new payment networks. One thing seems certain: the winds of change are not slowing, and thinking it is safe to wait for the storm to pass might be a dangerous plan.
Speaking of the speed of change, open any banking trade website, and you're certain to see something about real-time payments. Every industry gathering, big or small, has hours dedicated to it. You can turn on your television and advertising for solutions like Zelle are featured in bank commercials. Zelle is even running its own direct marketing campaigns including some high-profile TV spots to amp up interest and demand. It's working. Zelle's growth statistics are impressive, and they are standing up strongly to the third-party apps like Venmo.
The thing to appreciate is that Zelle keeps the FI at the center of the user experience. The dollars on deposit don't leave the FI to sit in an account elsewhere, and users access it though their mobile banking app. Zelle is primarily focused on consumer P2P and is branching into micro-business payments; think your dog-walker or lawn care folks. Based on the growth of P2P transactions, it is clear consumers want these services, and many are using solutions outside the FI to meet these needs. Data proves FIs are trusted more than an app they downloaded from another technology provider, and consumers prefer to keep their business where they believe their money is safe.
The other heavy-weight in the current real-time scene is The Clearing House (TCH). This long-time industry player has launched the first new network in more than four decades. Yes, while the industry has meaningfully evolved the existing networks to include things like Same Day ACH and digital check image exchanges, the fundamentals have not changed. We've sped up slow, but not made it all the way to fast.
What sets apart TCH's Real Time Payments (RTP) network is that it is designed to fit the modern ecosystem with cost savings and efficiencies over its direct competition of wires and card networks. Its implementation allows for a vast array of uses from emergency payroll and last-minute bill payments, to data-rich exchanges between B2B trading partners. Benefits from RTP extend beyond speed. The fact that it is a credit push ensures a good funds model, minimizing exceptions and returns. The opportunity to send a request for payment, get confirmations, and request additional information through secure network channels makes this a comprehensive platform that allows for future innovation to streamline AR and AP exchanges. Significant interest from corporate treasury managers can translate into new revenue streams for the FI with commercial services. Nearly 70% of corporations believe RTP will have an impact on their business in the next four years.1 It is important to also understand how RTP will affect your consumer account base. Some of the current applications are gig economy workers getting paid immediately after each job because money is tight; or an insurance company issuing an emergency disbursement for funds to pay for a rental car after an accident. Being able to receive these RTP payments will delight your customers and give them immediate access to deposited funds. This is especially beneficial when time is of the essence.
And, the latest news in early August is the Federal Reserve plans to launch their own Real Time Network called FedNow. The anticipated timeline is 2023 or 2024, and there is much yet to be determined including whether it will interoperable with the existing services. This may put some in a wait and see mode, but there is risk in that approach that must be balanced with a view of your payment strategy and a willingness to adapt as the market pressures evolve. It is essential to consider the account holder viewpoint. If your customer is engaged with a company that can issue payments in real-time today through RTP or Zelle, but your FI isn't ready to support receiving them, delight may not be the word the customers choose.
Expectations are shifting in every aspect of our lives towards immediacy and convenience. As services and commerce are advancing, payments need to evolve alongside and serve as a foundational, supporting element for the rest of our on-demand world. Having spent an entire career employed by community institutions, either directly or as their technology service provider, I understand how challenging it is to take on significant projects that have impacts across the organization, but sometimes the market demands it.
Customers can be fickle creatures; and even if they loved you yesterday, they will leave you tomorrow if you don't provide competitive services. To remain relevant and to effectively serve your communities, it is imperative that FIs keep up with an elevating baseline that includes the ability to accept real-time payments, offer P2P services, and provide solutions that help your business customers manage their cash flow.
The winds of change are shaping new dimensions in the payments landscape, and that is likely to continue for the foreseeable future. Community FIs don't have to be on the cutting edge; but as Blockbuster and Kodak painfully learned, not adjusting to new innovations in your market could leave you in a pile of dust that is hard to dig out of. There are many resources at your disposal. Reach out to your service providers, your regional payments associations, and your network of industry contacts. I would bet that they are all thinking about the very same questions you are pondering.
1Horowitz, Jeffrey, and Slabicki, Carl, "The Future of Payments – A Corporate Perspective," BNY Mellon