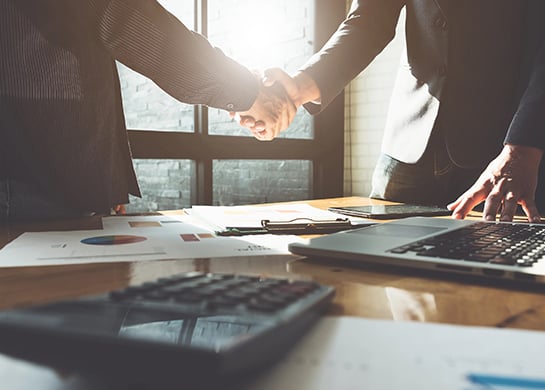 Partner is a word that gets thrown around a lot in business, especially by Sales and Marketing to instill a feeling of camaraderie between parties. It makes everyone feel good to be surrounded by partners. But what is a partner, the kind that all this friendly talk is alluding to?
A real partner is one that…
Shares in your failure as well as your success.
Doesn't hesitate to call, even when the news is bad.
Possesses strong character, good motives, and proven competence.
Can be counted on.
Easy to say, but when do you know you are working with a real partner?
You only know after they've been tested.
Putting Partnerships to the Test
So much has changed in recent months. Who could have anticipated the demands that would be placed on our financial institutions and infrastructure?
Suddenly, businesses that were already operating on limited margins and strained cash flow found their doors forced shut overnight. Time will tell what the ultimate impact is from the Paycheck Protection Program (PPP), but one fact is certain: The implementation, as imperfect as it was, had to be fast and reach many.
The U.S. Treasury and Small Business Administration gave financial institutions (FIs) little time to prepare for the deployment of the critical funds to small businesses, and throughout the entire process they have continued to change the rules. No time to complain or ask why ̶ just adapt and keep moving forward.
There are, no doubt, countless examples of FIs and their lending teams burning the midnight oil and working through weekends to ensure businesses receive the PPP funds they so desperately need to survive.
Behind the scenes, IT departments and outside technology providers sprang into action to ensure the security and reliability of the tools required to facilitate that service.
With so many moving parts, so many critical resources siloed, and so little time to act, how on Earth was this response accomplished?
The answer is, with real partners.
Vetting Your Partners
While it's not always easy to tell when you're working with a real partner, especially if the relationship is new, there are a few things your FI can consider. Here's a list of things your bank or credit union can do today to make sure you're vetting your partners properly and have the right support system in place.
Ensure that prospective partners are established and financially sound. Are they publicly traded, transparent, paying dividends, or carrying lots of debt?
Determine whether the prospective partner's ownership structure is industry-based, or is it a venture capitalist seeking a cash out strategy rather than a commitment to invest in R&D and improve products for the long term.
Question whether the prospective partner shares in your institution's mission and values. Do they have examples of going the extra mile?
Find out if the prospective partner is open to acquiring existing technology if it's an existing best-in-class solution, or do they insist on building products in-house only, thus delaying a potential solution reaching the marketplace?
Partnership During a Pandemic
Most businesspeople are familiar with the phrase, "Stick to what you do best and hire out the rest." True to form, the best financial technology companies in the PPP response reached out to their trusted partners and collaborated on how to leverage their existing solutions, networks, and people to meet the needs of FIs.
There was no time to reinvent the wheel on their own. Without trusted partners, the process would have failed. And this was a "failure is not an option" event to beat them all.
From the perspective of financial institutions, there was no time to issue RFPs, run pilot programs, or vet new providers. If they felt a solution was needed to manage the coming surge of PPP loan requests, they had to adopt it ̶ NOW!
Those with trusted technology partners no doubt felt more confident about processing PPP loans at a time when even a modest delay could jeopardize the viability of businesses and jobs in their communities.
Likewise, many business owners, starving for cash, turned to their trusted FI partners for the help they needed in their time of crisis, while those without such relationships struggled to locate financial institutions willing to assist them with PPP loan requests.
In all of these scenarios, those with established, genuine partners slept better and likely fared better. As for those who were testing a new partnership, time will tell.
One thing is for sure, this will be the test of lifetime.