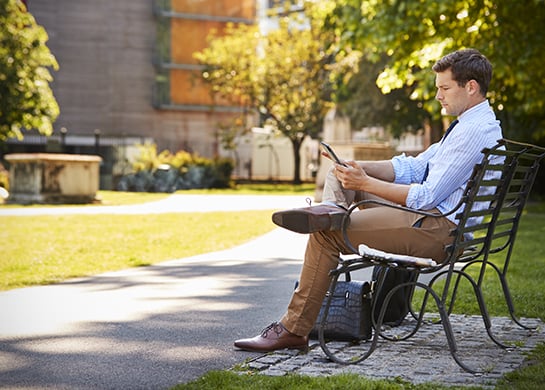 I live in the middle of small-town USA. We had a joke in Elizabethtown, Kentucky. When they broke ground on a new building, we'd say it's either McDonalds or another bank.
Well, that used to be the joke. These days, you don't see many new banks being built. As a matter of fact, there have been more banks acquired in the past five years than built. As a matter of fact, our iPay Solutions™ group is moving into what once was the main corporate branch of First Federal Savings Bank in Kentucky.
My question is, "Are the branches closing and consolidation happening because we don't need that service anymore?" I don't think so. Because on any Friday afternoon our local credit union looks like it is giving away money. So there must still be an opportunity to service a need for those community banks and credit unions, even in our little town.
I've gone to the same small barber shop to get my haircut since I was in high school. Same guy has cut my hair all these years. I would even drive home from college to let him cut my hair. I trust him with something as simple as how he cuts my hair. Think about that for a second. I went to college two hours away. I opened a bank account in that college town, but I drove two hours for a haircut.
It's more than loyalty, it's the experience. It's being able to trust him and tell him what I like, what I don't like, what I want and what I need. It's a partnership. I have very short and thin hair. I can't count the number of barbers in my younger years that butchered my hair. It's a painful memory.
My barber is a friend. We go to the same parish, we share stories, he keeps me up on local politics and what's happening. We were talking the other day and a company is trying to sell him a website. He joked and asked if I think he needs a website to maintain his business model or add more customers. I know him well enough to know the question was a setup. I will call days in advance to get on his calendar, so I know business isn't slow. The shop is also one of the very few phone numbers I have memorized, so I know they don't need a website for people to find them. You see, his business is built on years and years of loyalty and trust – generation after generation of families and children that just keep coming back. How would that work in today's technological world?
Smooth segue right? My parents' generation and even my generation walked into the local branch to do business. If you needed a loan, or to open an account, or start a business, get free coffee, or just deposit a check someone wrote you … visit the branch (in fairness, I use mobile RDC now and love it).
I personally know multiple people in our community that were in leadership positions with our local banks and credit unions. They were consultants to my parents when they were borrowing money or making a decision about investing. Business was getting done right there in the branch. Technology only aided in that level of service and ability to assist the needs of the community. But with the advent of the internet and smart phones, things have changed.
We as technology providers have changed. We stopped looking at ways to provide that business exchange at the point of need and opportunity and became a screen and an agent of self service. Sure, it gave you 24-hour access, but it took away personal touch. And the fintech community has to bring back that ability to offer service at that point of opportunity. Our customers may now be interacting with us outside the branch on a computer, a tablet, or a phone … but are we giving them the "in-branch" experience when they do? Are we treating each moment as an opportunity to do more and be more?
The way we interact and deal with them in their moment of need could create a moment of opportunity for your FI. It's not a pre-written response or a FAQ; it's an employee of the institution speaking or chatting online with the consumer, looking for answers or a service. It's answering that question on how they can use a service your institution has that they don't have to go to Chase or BofA for.
And it may be in that moment that they choose their local bank or credit union to be their trusted advisor for more than holding their money. Because unlike that barbershop I was speaking about earlier, you do need that website. You do need to keep a fresh digital presence and have payments and lending products your consumers can use. But as a local community bank and/or credit union, you can't lose that ability to be who you are and who you've always been … an important part of each community and a trusted advisor to everyone that trusts you with their business. But with the technology being offered today you can offer that service even outside the branch.
Like this article? Subscribe to the Strategically Speaking blog to gain access to weekly articles from our industry leaders right from your inbox!