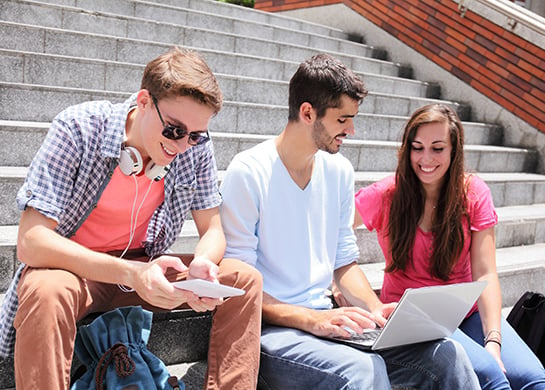 The oldest among the rising generation known as Gen Z is turning 22 this year, which means this demographic has never known a world without cell phones and the Internet. Pew Research Center defines Gen Zers as anyone born after 1997, and Millennials as persons born between 1981 and 1996.[1] While Millennials grew up with landlines and dial-up Internet, Gen Zers are true digital natives whose instinctual relationship to technology leads them to expect instant and convenient everything.
Understanding Gen Zers
This generation's preferred mode of communication is digital, primarily through social media and texting – a trend that's forcing institutions to rethink and redefine their approaches when it comes to traditional banking, technology, and communication.
Credit Union Journal recently reported on a research study that surveyed approximately 2,500 Gen Zers between the ages of 16 and 18.[2] Fifty-seven percent of respondents said they use their smart phones several times an hour, 55% base product purchasing decisions on information they found on a social networking site like Instagram or Snapchat, and 44% plan on augmenting their banking services with technology solutions from fintechs (compared to 28% of Millennials).
Marketing to Gen Zers
With it looking like Gen Zers will be more open to non-traditional financial tools and programs than Millennials, Gen Xers, and Baby Boomers, institutions need to make sure they don't lose out to fintechs. Part of your approach in marketing to Gen Z should be meeting potential customers on their own turf, which means communicating via text, live chat, and social media.
Specific ways to market to Gen Zers could include:
Offering digital capabilities like remote deposit capture and mobile banking.
Offering loyalty rewards. Gen Zers are used to rewards programs, thanks to companies like Starbucks and Sephora, who reward customers with points for their patronage.
Sending targeted messages to their mobile devices.
Emphasizing budgeting tools and automatic savings options. Because a lot of Gen Zers witnessed their parents taking financial hits during the Great Recession, they tend to be more financially conservative.
Using social media to build your brand (rather than selling a product).
Pushing to get your credit and debit cards loaded onto their Apple Pay or Samsung Pay platforms so you stay top-of-wallet.
Offering automatic deposits to savings accounts and allowing Gen Zers to direct savings into self-defined buckets like college and cars.
Gen Zers are the first frontier of truly digital native customers. If you want your institution to appeal to this tech-savvy and mobile-centric generation, you need to offer technology that allows for quick and convenient communication across all your channels.
Now that you understand how to market to the true digital natives, learn how your institution can retain the Boomer generation during this evolution.
Be sure to check out the other posts in this series:
[1] Pew Research Center: Defining generations: Where Millennials end and Generation Z begins. January 17, 2019.
[2] Credit Union Journal: How some credit unions are working to attract and retain Gen Z members. April 4, 2018.