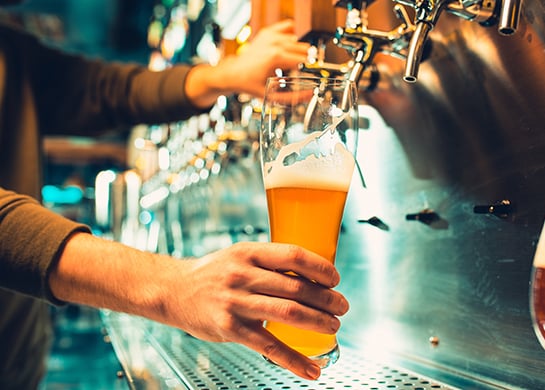 Tapping the Fintech Community at FinovateSpring 2019
The city by the bay welcomed FinovateSpring in May at San Francisco's Hilton Union Square. Innovation was on tap with 60 fintech demos, presentations from industry thought-leaders, strategy roundtables, and more. The Finovate conference series continues to be where you can see the future of fintech first.
The Top Notes: Fintech Innovations that Took Best of Show
Among 60 live fintech demos over two days, attendees selected eight fintech standouts to take Best of Show. Here's a snapshot of the leading innovations at FinovateSpring that aim to help customers solve a variety of challenges from conversational AI and credit access to fraud and more.
Arkose Labs for its technology that solves multi-million-dollar fraud problems for the world's most targeted businesses with zero impact.
Blytzpay for its text-to-pay solution that makes billing and communication simple, streamlined, and secure, while providing flexibility to pay by card, check, or cash.
BlueRush for Individeo, an interactive and personalized video platform for financial institutions to drive online sales success.
Everplans for its solution that helps advisors create better interactions, establish new connections, strengthen relationships, and gain introductions to heirs.
Glia (formerly SaleMove) for its technology that creates digital-first moments that simplify and transform communication between companies and their customers using messaging, video/voice, co-browsing, and AI.
Invest Sou Sou for its smart social banking account designed to help community banks cultivate low-cost deposits and credit-ready borrowers in a secure and cost-efficient way.
Neener Analytics for its regulatory compliant social media analytics platform that delivers specific individual risk outcomes for thin-file, no-file, and credit-challenged consumers.
Voca AI for its smart, human, and empathetic virtual call center agent for financial institutions and service providers.
Innovation was on tap as 60 fintechs each took the stage for a seven-minute live demo. Check them out by visiting the Finovate Demo Video Archives.
A Tasting Flight of Artificial Intelligence
FinovateSpring offered a refreshing sampling of AI-enabled fintech solutions. Of the 60 companies that took the stage, 25 incorporated AI and machine learning (ML) into their solutions. Real-world applications of AI included alternative credit scoring, customer
care, marketing/sales, financial advising, financial inclusion, stock-trading, and more. Compared to last year's event, the focus of AI has shifted from the technology itself to the problems AI is helping to solve and the experiences AI is enabling.
Customer Experience Unfiltered
Customer experience (CX) has become the new battleground. As such, there was an unfiltered focus on ways to apply technology to enhance CX. Two quotes I found notable came from Michael Lewis from Citi, "It's not about features, but about the right product with the right experience for that group." Steven Ramirez from Beyond the Arc added, "The design of the customer experience should go hand-in-hand with the design of the metrics."
Here are five examples of how technology is being applied to improve the human experience.
Straight No Chaser: #WomeninFinTech
As a woman working in fintech where women are often underrepresented, it's encouraging to see other women driving innovation in the field. I enjoyed Robin Burkinshaw with Blytzpay who is a straight shooter, "Fintech can be a platform for inclusion. (The experience as a female founder) has been a challenge. I've been there when people looked past me and ask men the questions. I work harder." Cheers to that!
Alissa Knight, Aite Group analyst and former hacker, rocked the stage to share her list of "WTF" findings around how easy it is to use APIs to gain access to customer data and exploit vulnerabilities in mobile banking apps. Alissa's static code analysis is complete (web forms – she's coming for you).
Thirsty for More?
If you're looking for more great speakers and industry-leading content like Finovate, I encourage you to attend our annual educational conferences, Symitar® Educational Conference & Tech Connect (SEC) or Jack Henry Annual Conference (JAC), both held this year in beautiful San Diego. I'm lucky to live in San Diego – it's a beer lover's paradise with over 150 craft, micro, and nano breweries. When it comes to beer, small is the new big. There are more than 7,000 breweries in the U.S. Here's a brewery finder so you can find one near you. When you order your next craft beer flight, here are five things not to do. Is there such a thing as beer flight etiquette? Yes (and you're welcome). When you're here, let's chat FinTech (and breweries!) over a cold one. Bottoms up.