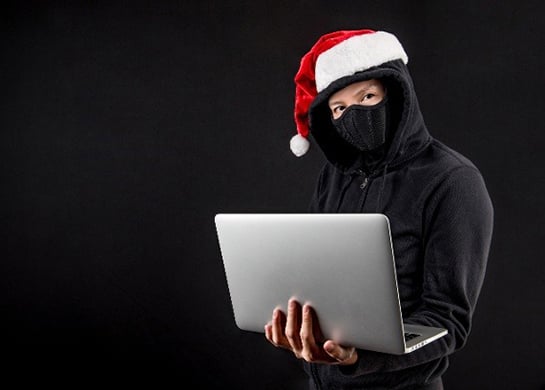 Naughty or nice! A perfect holiday line to summarize what cardholders, financial institutions, and merchants wonder about each credit and debit card transaction this time of year.
We know once fall arrives that the holiday season is close behind. Physical stores and online sites begin promotions and holiday décor early, well before Thanksgiving arrives. Consumers start shopping early. We move fast. Fraudsters count on that.
Fraudsters have the same marketing strategy. They begin testing their fraud schemes earlier and earlier each year with the holiday season as their ultimate target. Thanksgiving, Black Friday, and Cyber Monday are highlights of the season for them.
According to ACI Worldwide, Thanksgiving Day e-commerce spend totaled $2.87 billion for an 18.3 percent year-over-year transaction volume growth from 2016 to 2017. Black Friday spend totaled $5.03 billion for a 16.9 percent year-over-year transaction volume growth. Criminals flood the market with fraudulent transactions in efforts to hide their spend amidst the holiday volume.
According to Digital Commerce, consumers spent $453.46 billion overall on the web for retail purchases in 2017, a 16 percent increase compared with $390.99 billion in 2016. That's the highest growth rate since 2011, when online sales grew 17.5 percent over 2010.
It is anticipated that 2018 holiday online shopping will reach record levels. In fact, Rippleshot indicates that card-not-present fraud in the U.S. is expected to increase from the $3.1 billion seen in 2015 to $6.4 billion in 2018.
Active fraud monitoring is critical; by consumers as much as financial institutions and merchants. Here are some recommended tips for safer shopping experiences that you can share with cardholders:
Use transaction alerts and mobile controls. Cardholders are the best fraud analysts, with first-hand knowledge of what's legit and more importantly what's not.

Frequently watch account balances. Always check receipts against account activity and statements.

Cardholders should know that financial institutions may text, email, or call to verify transactions; and they should respond quickly as fraudsters will use compromised collateral as fast as they can.

Shop at trusted websites. Check for secure sites by looking for https: in the web address. And beware of extremely low or almost unheard-of prices.

Use secure online purchase methods as much as possible including Visa Checkout, Masterpass®, PayPal, and other tokenized options such as Apple Pay®, Google Pay™, and Samsung Pay.

Avoid use of public Wi-Fi connections. Hackers easily gain access to public networks and can steal your information.

Keep PCs and mobile devices updated with anti-virus and anti-malware scanning software.

Be careful of emails requesting personal information or emails with links. Validate! Don't click!

Holiday package theft is popular. Consumers should always track shipments.

Cards should be closely guarded. People should only carry what they need to limit risk of theft. Never leave wallets or purses unattended. Be mindful of getting the card back in a safe place after making a purchase.

Make sure to conceal packages and avoid leaving valuables in vehicles as much as possible.

Always park and walk in well lit, populated areas. Stay alert and be aware of the surroundings.
Cardholders shouldn't take the easy route when it comes to purchases and their finances. They ought to be thoughtful about where they are shopping, whether in store or online. If added security is available, it should be used. Take advantage of setting transaction alerts; financial institutions supporting Visa® and Mastercard® are required to offer them. Always use multi-factor authentication when accessing financial accounts. This means not only logging in with a username and password but also setting parameters to require the added step of an email or SMS token code wherever and whenever the option is provided.
Safeguard your cardholders' holiday season spending and be wary … yet merry.