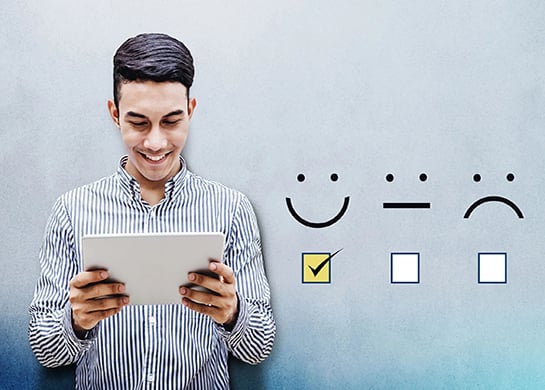 OK … let me begin by identifying myself. I am half Gen X and half Millennial in my habits. Let's just say borderline on the age. Yes, I am that guy. I am notorious for downloading the app for every restaurant, gas station, movie theatre, hotel, airline, etc. And yes, I have an app for each of my credit cards and my bank. I like to see how a company represents itself digitally. Additionally, I can often earn points with my purchase, get things cheaper, and sometimes, even get them for free.
What is the biggest difference in how those retail companies are attacking the "digital experience" versus how we look at the world of digital banking?
Let's take my Kroger app to start. Within the app I can shop, apply coupons, track fuel points, pay for my groceries, and best of all, I can have them delivered or ready for pickup when I arrive. I haven't walked into Kroger in six months. For these things to be available, Kroger has to think outside of the online Kroger shopping. They must create a full experience within the limits of the mobile app that will allow me to have a full-service experience as if I went into Kroger myself. Shot, score, win … they are killing it.
Delta Airlines also does a great job of providing this experience. And they continue to evolve. Right now, I can open my Delta app and book a flight anywhere for anyone and pay quickly and easily, review all my reservations, change seats, review upgrades, my SkyMiles account, previous flights, and even get directions and timing for gate-to-gate transitions.
They do a more than serviceable job of providing real-time updates on current flight status and make the app almost something you have to keep running when you are traveling. Again, they aren't trying to give you the same digital Delta experience you would get if you walked up to a customer service agent, they are giving you the full Delta digital experience and everything you need along the journey.
Now, let me pivot to financial services.
We in #FinTech and #FinServ need to look at our customer and find the Kroger/Delta model. How do we become a service to the consumer – something they rely on, not something they log into to check their balance?
A recent J.D Power study of a quarter million banking customers revealed that the level of satisfaction for the three primary banking channels — branch, online and mobile — held steady over the study period of April 2017 to July 2018. The study notes that mobile satisfaction has been flat for the last six quarters despite a great deal of investment by the industry. Why? "Mobile banking – and digital banking in general – is considered table stakes now. People have come to expect it." Clearly, there is an opportunity for financial institutions to up their game here.
Think back to the days before the internet. Why did people walk into their bank or credit union outside of deposits or withdrawals? They relied on the president of that bank or the branch manager. They listened, they learned, and they tried to understand what was happening and why they should or shouldn't move money and spend money. Should they borrow or wait? What was the financial institution offering now that they needed and how soon could they get it?
Honestly, are we doing that for our customers in digital banking? Or are we just giving them a dashboard of information that a bank teller would see? Yes, all that information is important and something the customer wants to see, but once they've reviewed it, are they really drawn back? Are we serving them as a true partner and consultant by showing them what's happening behind the teller desk?
With the advent of integrated bill pay and mobile RDC we are providing more services, no doubt, but there must be more. I am not trying to play digital experience expert and tell you I have the answers. But I know my own personal experience and I know the customers I talk to, and we as service providers for the community banks and credit unions are falling short. We need to be a service provider and look more like a Kroger or Delta and less like a one-trick pony that can provide the account balance. Again, the J.D. Power study: "Customer experience demands much more than simply shorter wait times. It must encompass understanding and explaining products and fees, clear and timely communications in consumers' preferred channel, and relevant advice taking into account each consumer's situation."
So, if we are going to be the partners we promise to be in the industry, we owe it to our banks and credit unions to provide a digital experience their customers not only enjoy but can embrace… and stay faithful to. I truly believe that as I am typing this, it's being discussed in a boardroom somewhere. We have to be bold and ready to embrace the idea that it might not be like we've always done it.
Like this article? Subscribe to the Strategically Speaking blog to gain access to weekly articles from our industry leaders right from your inbox!