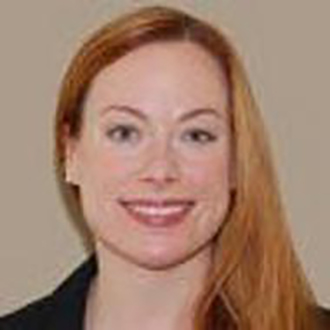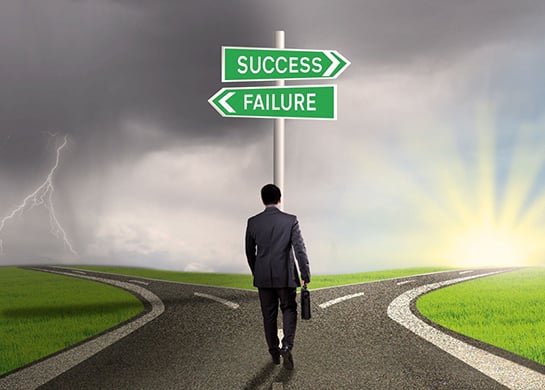 I recently had a negative experience with a telecomm company that shall remain nameless. While I remained on hold after multiple transfers, inspiration for this post came to me in a Journey song (thanks Spotify). To keep things fun, see if you can spot the titles of 10 top hit songs from Journey below. Count the tracks you find to assess your fan status at the end (and even win a prize).
The Customer Journey Map
As consumer expectations become influenced by experiences delivered by big techs like Amazon, positive and share-worthy experiences are more important than ever. Don't stop believing that you have what it takes to improve your customer (or member) experience at your bank or credit union. You can craft unique and intentional experiences by mapping key customer journeys.
A customer journey map is a visual of an end-to-end customer experience. Maps help you see your brand, product, and processes through the eyes of your customer. The goal of journey mapping is to uncover positive and negative aspects of an experience to identify opportunities for improvement. Journey mapping shifts perspective from inside-out to outside-in and helps assign ownership of key customer touchpoints to specific departments. Enhanced accountability for improving customer experience will help keep your customers from going their separate ways. Journey maps also help build empathy, as they identify pain points associated with different steps in your process by each touchpoint.
Mapping Your Customer Journey
Step 1: Develop Customer Segmentation and Personas
Every customer is unique, yet common goals, needs, and patterns of behavior can be found by analyzing customer segments. Narrowing the focus on improving the experience for your high-value customers enables an "any way you want it" approach to crafting their experience. Developing customer personas can help you understand a journey relative to the needs and goals of a specific group, and they provide guidance and input for journey mapping. While one persona isn't enough (i.e., only the young), too many are difficult to remember.
Step 2: Understand Customer Goals
The next step is to understand what your customer wants to achieve. Think about your customers' ultimate goals in each phase of the journey. For example, phases in the buying journey include:
Identifying a need

Researching available options

Understanding and comparing pricing/terms

Seeking reassurance and social proof (i.e., online reviews and ratings)

Completing the purchase
Journey maps are based on what customers are thinking, feeling, and doing. This requires an investment in qualitative research. Quantitative customer data tells us "what" customers are doing but not "why" they're doing it. Understanding the "why" is key to improving the customer experience, so you'll never hear them say, "I'll be alright without you." Consider the following ideas to capture qualitative data:
Survey/interview different customer groups

Get user testing feedback

Review customer support emails/transcripts

Identify customer questions in each phase of the journey
Once you've listed top phases and goals for your key journeys (i.e., opening a new account, enrolling in online/mobile banking, applying for a loan), you're ready to identify customer touchpoints.
Step 3: Identify Customer Touchpoints
A "touchpoint" refers to any time a customer comes into contact with your brand, including interactions offline and online, through marketing, and in person or by phone. There are many ways for customers to experience your brand. Put yourself in your customers' shoes and walk yourself through their journey step-by-step. Ask yourself where your customers go when they search for solutions to problems you can solve. How (and where) do they learn about you and explore your products/services? How do they make their purchase decision, and how do they buy or transact? How do they engage post-purchase/post-transaction? You can ask customers directly about their experience with your brand or develop a survey.
Step 4: Identify Customer Pain Points

Now it's time to identify pain points. Interview customers and customer-facing staff and ask questions such as:
Are customers achieving their goals on the website and/or mobile app/in the branch/in the contact center?

Where are the main areas of friction and frustration?

Where are people abandoning purchases/transactions (and why)?
Once you know where the pain points are, note them on your customer journey map. Consider documenting what your customers think you do well to find ways to improve.
Step 5: Prioritize and Remove Roadblocks
Now the focus is on roadblocks and embracing change with open arms. What needs to be fixed or built? Do you need to break everything down and start from scratch? Are there areas where a few small changes can create a big impact? Look for quick wins to gain immediate value from the journey mapping exercise and prioritize other improvements in your customer experience based on the opportunity to drive revenue and improve customer satisfaction/engagement for your high-value customers.
Step 6: Visualize Your Customer Journey and Add KPIs
It's time to bring your map to life. Use the sketch of the customer journey developed in the steps above to create a visual map. Keep it simple. You may want to draw it on paper, create a spreadsheet, or use an online mapping tool such as UX360 from TandemSeven.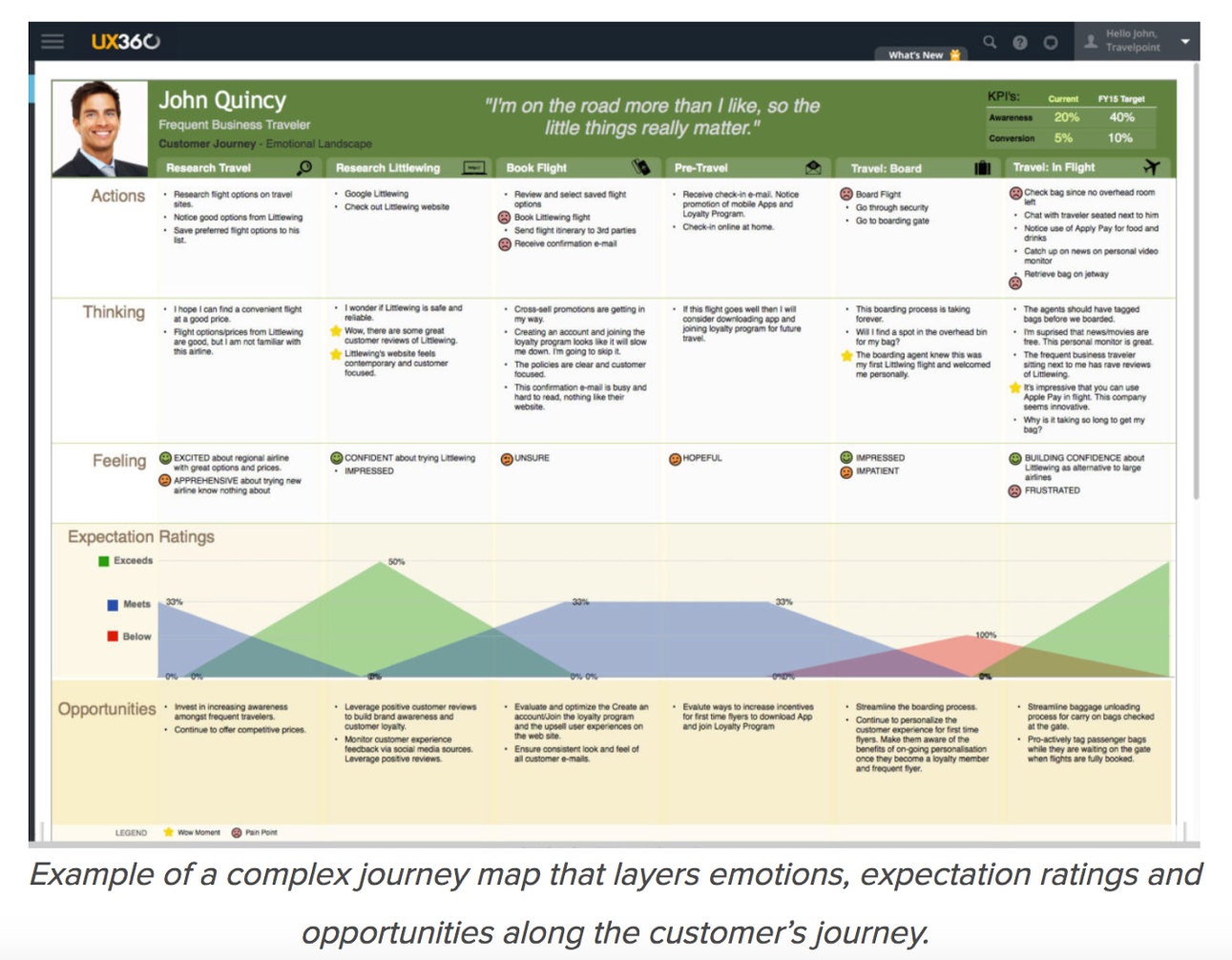 Key performance indicators make your customer journey map actionable. Indicators like "meets/doesn't meet/exceeds expectations" can be added to effectively visualize required improvements. Other metrics may include Net Promoter Score and customer satisfaction measures (by touchpoint if available). Whatever KPIs you decide to use, they should help you faithfully measure the strength of your customer experience.
Step 7: Act on Insights and Refresh
Finally, it's time to take everything you've learned throughout the process and make meaningful business changes. Distribute your customer journey maps throughout your organization to share the knowledge gained. Apply journey map insights to inform user stories, requirement descriptions, KPIs, and other organization objectives. Customer journey mapping isn't a set it and forget it exercise. Your customers are constantly changing, so your journey map must adapt. Think of it as a wheel in the sky that keeps on turning. Schedule a refresh of your customer journey maps every year (or sooner if you introduce significant product/service changes or customer segments).
The Bottom Line
By focusing on the customer perspective, brands can better understand consumer wants and needs to help craft intentional and more satisfying experiences. Be good to yourself and make the investment in mapping your key customer journeys. Remember, customer experience improvements are often long-term commitments that span multiple departments. Opportunities discovered during journey mapping may require breaking down silos and transforming internal processes. The bank or credit union not willing to embrace change may find themselves the one who's crying now.
How Did You Do?
Check the answer key below to see how many Journey top hits you found. Come back to check your fan status.
If you found 0-3 tracks, you've earned "Security" status (you're present, but not really a part of the musical experience).
Your prize: A recommendation for Journey's Greatest Hits on Amazon.
If you found 4-7 tracks, you've earned "Front Row Center" status
Your prize: An opportunity to expand your knowledge with Journey Trivia.
If you found 8 or more tracks, you've earned "Backstage Pass" status
Your prize: An introduction. Connect with Journey on Facebook and you might get a real backstage pass. (Don't stop believing.)
Whether Steve Perry, Steve Augeri, or Arnel Pineda is your front man, crank up the volume and let the sounds of Journey inspire you to start mapping your customer journey! Until next time, let's light it up (virtual lighter app) and keep the flame alive …
Answer Key: If you got here by skipping to the end, you may know the answers, but you missed out on all the fun. Remember, it's not about the destination, it's about the "journey". Tracks listed in order of appearance: "Don't Stop Believin'," "Separate Ways," "Any Way You Want It," "Only the Young," "I'll Be Alright Without You," "Open Arms," "Faithfully," "Wheel in the Sky," "Be Good to Yourself," "Who's Crying Now?"