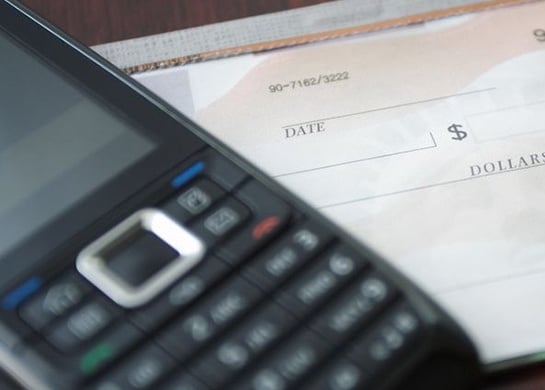 In the decade since Check21 legislation became the law of the land, the proliferation of remote deposit capture solutions has been staggering. As far back as a year ago, U.S. financial institutions had deployed more than one million desktop scanners to their commercial customers. What was revolutionary in 2005 was a commodity by 2015. It's a rarity now to find an FI with commercial clients that doesn't offer RDC.
But that doesn't mean the remote deposit market isn't changing. Thanks to the advent of Mobile Remote Deposit Capture (mRDC), electronic deposits have become a mainstream service for consumers, too, with more than one-third of U.S. bank account users having deposited a check via a mobile device.
And now the battleground for RDC services has moved to the amorphous space between consumers and full-grown commercial clients, the mystical land where small businesses live. This shift presents a challenge to treasury management sales staff when they pitch RDC products to existing clients or prospects.
To be clear, RDC isn't new to small businesses. Based on recent surveys, as many as 45% of small businesses may be depositing checks with a mobile device. This practice has become so common that Celent's State of Remote Deposit Capture report for 2015 was subtitled Mobile is the New Scanner. As explained by Celent's Bob Meara, "Mobile RDC is becoming the new scanner, with banks racing to offer mRDC to small business and commercial clients."
Unfortunately, much of this commercial mRDC activity has taken place on apps designed for consumers. While this method is a viable choice for microbusinesses like lawn services and other single-operator enterprises, it may not suit the needs of professionals, partnerships, retail establishments, or other small-but-not-that-small business entities. Any business that needs more than one person to make deposits will be painfully constrained by consumer apps, but smaller businesses with smaller deposits may not be willing to take on the cost and cumbersome nature of a desktop scanner. This gap has led to the emergence of true commercial mRDC applications.
mRDC Apps: Commercial vs. Consumer
What are the differences between a commercial mRDC app and a consumer one? Well, for starters, consumer apps are designed to allow one user to deposit checks into one or more accounts. In a small business, multiple people may need to make deposits. Consumer applications don't provide a way for a business owner to view a consolidated list of all mRDC deposits made to the business's accounts or set limits or restrictions for particular users.
As the size of a business grows, its needs grow, too, often surpassing the relatively simple functions available in consumer mRDC apps. In cases where a business needs desktop scanning to process an active flow of checks through their back office and mobile scanning capabilities for reps who collect checks during field visits, consumer apps don't even begin to provide the necessary functionality.
From the financial institution side, commercial mRDC apps offer more sophisticated risk management tools like velocity controls that govern deposits by all users, the option to report on deposits by user or location, and insightful data analytics that allow FIs to fully track deposit activity as part of the broader payments flow for each business.
With the availability of more robust commercial mRDC apps, the real question for treasury management sales staff is, "Which RDC option is the best fit for this small business, a scanner or our commercial mRDC offering?"
---
Related: How Mobile Remote Deposit Fount Its Mojo
---
How Small Is Too Small for Scanners?
The decision to sell a small business client a mobile solution instead of a desktop scanner is based on two primary factors: cost and functionality.
Mobile RDC Cost Factors
The obvious cost advantage for mobile RDC users is that no one has to buy a scanner. Eliminating this $250+ obstacle is a big deal, but there are other monetary factors that come into play, like the different fee structures associated with scanner-based and mobile RDC services. While some banks or credit unions absorb the entire cost of remote deposit services in order to maintain strong customer/member relationships, most FIs charge a fee or combination of fees for commercial RDC that includes a lease or purchase fee for the scanner, a monthly fee to use the service, and a fee for each deposited item. For standard desktop scanning, the monthly fee calculation could look something like this:
     (Items Deposited * Transaction Fee) + Monthly Service Fee + Scanner Lease/Depreciation Amount
For mobile scanning, the calculation is similar, but there's no scanner component:
     (Items Deposited * Transaction Fee) + Monthly Service Fee
While it seems like the mRDC option would always be cheaper, it's not. That's because most FIs charge more for each item a business deposits through a commercial mRDC app than they do for items deposited via a desktop scanner. By plugging your actual fees into a similar set of calculations and trying different transaction volumes, you can find the point at which your customers could potentially save money by choosing a mobile option. But the decision to present a mobile solution to a particular business client isn't based just on cost, there are functionality issues to consider, too.
Mobile RDC Functionality Factors
The most obvious functionality difference between scanner-based RDC and mobile RDC services is speed. If a business deposits only 30 to 40 checks per month, but due to their collection methods, they usually deposit them all on the same day, mobile may not be the best option. While using mobile RDC might save them a little money, it takes substantially more effort to deposit each item via a phone or tablet than it does to run them through a scanner. Most businesses would happily throw in a few more dollars each month for the convenience of a check scanner when presented with the daunting challenge of capturing dozens of individual items in a single sitting on a mobile device.
Geographic flexibility, on the other hand, is a functionality component that cuts the other way. If a business has six locations that each process 15 checks a month, they may be willing to pay a few dollars more for a commercial mRDC service that lets them capture the checks at each branch rather than having to courier them to a central location in order to feed them into a check scanner.
There are security factors on the functionality side, too. While some commercial mRDC apps can attempt to scan the back of the check to confirm the presence of an endorsement, mobile apps can't frank the front of a check as a means to prevent its redeposit. That factor alone may lead your FI to restrict sales of commercial mRDC to business clients with an established track record and a penchant for internal security.
There are other functionality factors, too. Some businesses may not supply employees with corporate mobile devices, and they may not be comfortable having staff members make business deposits on personal phones. Your financial institution may uncover other selling boons or obstacles specific to your clientele, geography or business practices. As with any service, it's important that an FI understands their client's business model and tailors each product pitch to that particular organization.
The Bottom Line
Ultimately, your financial institution has to make a customer-by-customer decision about which RDC service best meets the needs of your clients while still fitting your operational and risk constraints. Just remember, commercial mRDC solutions create options for your small business customers. Think through the parameters before each sales opportunity to be sure you're presenting solutions that will address the pain points for that particular client. And, when in doubt, don't be afraid to present both alternatives so the customer can choose for themselves.
---
About the Author: Kevin Moland manages remote deposit and payment products for ProfitStars, where he brings to bear nearly three decades of experience designing online financial applications. Early in his career, Kevin managed bank operations for community financial institutions, specializing in back-office processing systems and electronic banking programs. Since joining the financial software industry in 1993, Kevin has been a key player in the online services revolution, providing product direction and software design oversight for some of the nation's premier online banking and commercial payment vendors.