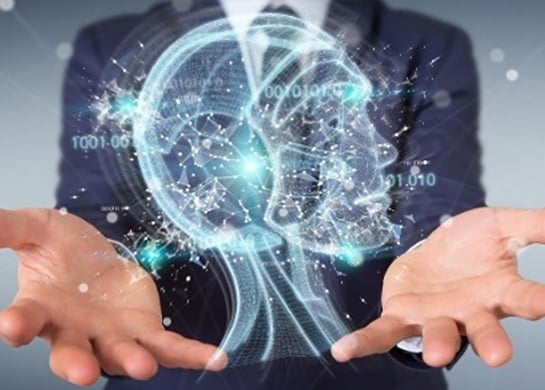 Gartner research tells us that CMOs spend an average of 18% of their overall marketing budgets on customer experience (CX) initiatives – signaling the importance of investing in CX improvements to make your company stand out so you can gain a competitive edge. Big Techs like Amazon are already delivering seamless, simple, intuitive experiences, and as they continue to raise the bar for consumer expectations, it's hard for community banks and credit unions to keep pace. While financial institutions may not have the fun factor of online shopping or content streaming, they still have an opportunity to create delightful and contextually relevant experiences by revving their marketing engine with artificial intelligence (AI).
Sparking a Marketing Renaissance – Rebooting Marketing's Traditional "4P's"
According to a report from Forrester, AI will spark a marketing renaissance. As marketers face the challenge of driving growth in a complex and fast-paced digital world, AI can help them reboot the traditional 4P's of marketing: product, place, price, and promotion.
Product: faster, more relevant services. Example: the algorithmic recommendations delivered by brands like Netflix and Spotify that seem to know what we like (a lot of the time).
Place: automation in every channel. Example:, campaign targeting and real-time bidding on digital ads to improve marketing efficiency and effectiveness.
Price: optimization by microsegment. Example: Uber uses AI algorithms to optimize pricing based on context and customer data. We may not like surge pricing in Uber's case, but dynamically adapting pricing to specific customer segments enables a sophisticated pricing strategy.
Promotion: instant contextual offers. Example: right-time, right-message and right-place marketing communications.
Why AI Should Join Your Marketing Team
AI supports the marketing mandate to drive growth. AI-enabled marketing can help modern marketing teams optimize performance. AI can help reveal key insights from an ever-growing mass of data from disparate sources to improve campaign targeting and messaging to achieve better ROI overall marketing KPIs. Augmenting your marketing team with AI will ease the burden of manual and cumbersome data analysis so team members can focus more on brand strategy, creativity and innovation.
An AI-enabled marketing team can also improve your organization's CX. According to the Forrester report, AI is projected to positively impact CX in the following ways:
Act on insights with personalized experiences and dynamic content. AI helps marketing discover and act on new insights to better personalize content, offers and promotions to a growing number of micro segments.
Automate cross-channel campaigns and optimize marketing mixes. AI will facilitate the execution of cross-channel marketing campaigns and enable marketers to optimize channel mixes and marketing spend (in real time when combined with AI-enabled marketing automation platforms).
Blur the boundaries between marketing, sales, and customer care. AI-enabled chatbots and intelligent assistants like Alexa will continue to improve and support more meaningful service and sales interactions with customers.
Enable marketers to orchestrate CX across the organization. By monitoring outcomes of algorithms in near real time, marketing will be empowered to quickly respond to the voice of the customer to improve CX and support their organization's brand promise.
Achieving Hyper-Personalization (At Scale)
Financial institutions face the growing challenge of humanizing the digital experience. Banks and credit unions must find new ways to capitalize on their reputation for great service by translating their high-touch branch experience to their digital delivery. How do you develop a relationship with your customers and members when you're not face-to-face? Hyper-personalized interactions are the answer. These interactions are made possible by marketers who have access to data, AI, and automation tools. By leveraging data and AI, modern marketers can better understand and predict customer needs and deliver the right message at the right time in the right channel (at scale).
While it's still early days for AI implementation in banks and credit unions, AI is sparking a marketing renaissance. With AI in their toolkit, modern marketers can improve targeting, personalization, and engagement at scale and speed not possible through manual analysis. The call-to-action for financial institutions that want to achieve hyper-personalization in the hyper-competitive marketplace is to make AI powered marketing a priority. Your marketing team has a very real need. They need a modern tech stack to enable modern marketing to attract the modern consumer. There's nothing artificial about that.