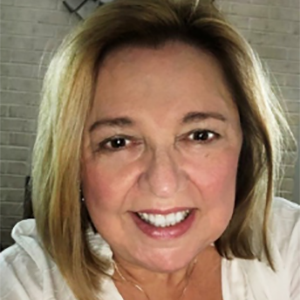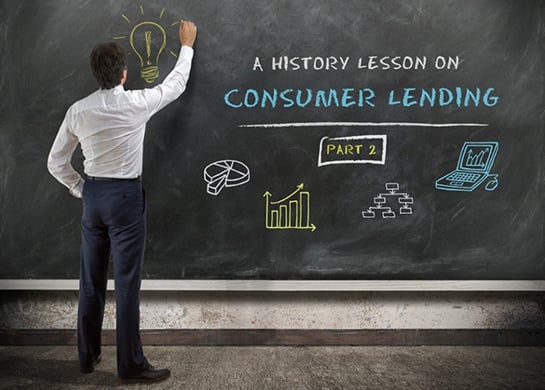 Part 2: From the 1900s to the New Millennium
In the early 1900s, banks and finance companies were unwilling to lend to many poor laborers, who then turned to corrupt moneylenders and loan sharks, which defines the term predatory lending. Edward Filene, co-owner of the Filene Department Store (later referred to as Filene's) wanted to give his workers a way to save their money or obtain credit when hard times hit. He formed a savings and loan association for employees which later became the Filene Employee's Credit Union. This helped to form the Massachusetts CU Association established in 1909 by Edward Filene. This later served as a model for the Federal Credit Union Act of 1934.1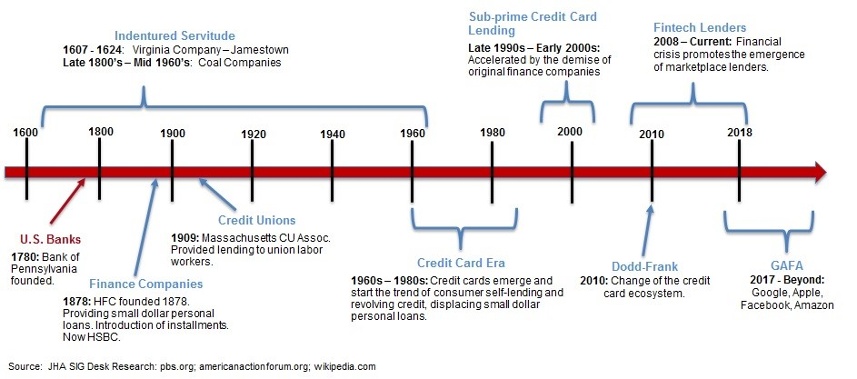 The 1960s brought about the credit card era where "self-lending" started displacing small dollar personal loans. When the finance companies started fading in the 1990s, sub-prime credit card lending accelerated and fees to merchants increased, resulting in a ripple effect to consumers. The Dodd-Frank Act was enacted in 2010 to address financial reform to the 2008 financial crisis. Research from the American Action Forum (AAF)2 determined that it has led to a 14.5% drop in consumer revolving credit since then.2
The financial crisis in 2008 forced financial institutions to tighten credit standards, which all but stopped lending to less than prime borrowers as the Fed rates dropped to zero. This brought about the emergence of one of the most modern disruptions to traditional lending in the form of the online marketplace lenders also commonly referred to as fintechs. These fintechs, supported by investors who were looking for palpable investments, created online marketplaces to meet borrowers' needs. Unlike the traditional lending market, they were loosely regulated and charged higher rates and prepayment penalties. Fintechs also introduced a better customer experience by providing innovative processes driving interaction via digital channels and streamlining an easier, faster method for originating and funding loans. Consumers and small businesses quickly adopted the online marketplaces even though the costs were higher.
Finally, we now see the GAFA (Google, Apple, Facebook, Amazon) movement where conglomerates are producing super platforms monopolizing e-commerce and offering services associated with lending and payments. This movement is, once again, causing a major disruption to the banking industry. Like the fintechs, these companies are attracting consumers by providing convenience and simplicity in doing business. They are also gaining trust with the consumer and small business markets which has always been an advantage possessed by the traditional banking segment.
Over the past 238 years, traditional banking has survived disruption in the U.S. by reinventing themselves or adapting to the needs of the communities they serve – giving them better options with security and best welfare in mind. Let it be known that traditional financial institutions, like banks and credit unions, have played key roles in eliminating unscrupulous lending practices such as indentured servitude and predatory lending.
Our communities need local financial institutions they can reach out and touch as well as provide the conveniences digital technology brings to the customer experience. By doing this, financial institutions will reposition themselves as a pinnacle in the market, banking (no pun intended) on their reputation of trust and high standards.
[1] https://en.wikipedia.org/wiki/Federal_Credit_Union_Act
[1] https://www.americanactionforum.org/research/dodd-franks-impact-on-revolving-consumer-credit/