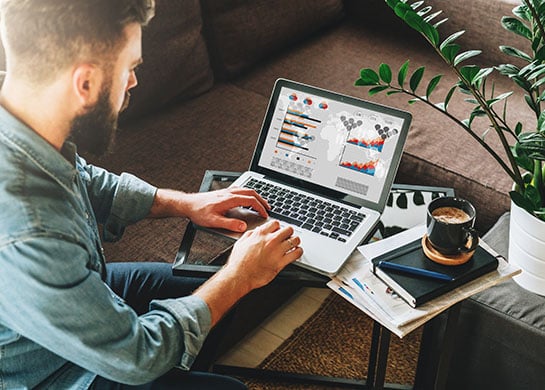 The use of artificial intelligence (AI) and machine learning (ML) might seem like a space-age concept to some. But today these types of advanced data analytics are being used successfully to enhance the user experience, encourage engagement, drive revenue, increase sales, and fight fraud.
A large majority (66%) of financial institutions (FIs) believe technologies such as AI, ML, blockchain, and the Internet of Things (IoT) will have a significant impact on the banking sector. That's up from 42% last year[1].
Although applying AI technology in a bank or credit union may seem complicated, the benefits appear to be skyrocketing. Payments, in particular, are gaining a lot of momentum with the use of AI and ML. The use of these technologies in payment processing is reported to be one of the main fintech trends of 2020[2]. Examples of how payment data is revolutionizing financial services include:
Payment behavior drives customer-centered engagement.
Driving customer-centered engagement is even more important in the COVID -19 era. The pandemic accelerated the shift to digital channels much faster than anyone expected, leaving FIs to transition the traditional brick-and-mortar banking model in an instant.
Data plays a large role in this transition. The current environment shows that consumers long for help managing finances, reducing debt, improving credit scores, and paying bills. Building a customer-centric strategy should be data-driven, powered by customer behavior. When FIs understand this and have plans to engage customers to help them with their finances, business becomes personal again, whether it's in the branch or digital.
Payment transactions create customers' stories.
One key insight garnered from data is learning the customer story. For the past several years, we've heard about the importance of personalization in banking. Payment transaction data such as online bill payments, ACH payments, fund transfers, and debit/credit card payments are crucial to gather a more complete view of the end user and offer true personalization.
These transactions paint a more complete picture of the consumer, not only with their primary institution but with other institutions, retailers, and service providers.
Viewed together, a customer's payment transactions weave a unique financial story. When analyzed correctly, payment transaction data identifies a consumer's life priorities, reveals patterns in spending behavior, and predicts current life stages, such as having children, buying a house, sending kids to college, or retirement. This is what customers want and expect their bank or credit union to know in order to understand their current financial needs and financial goals.
Payment authentication helps with real-time fraud prevention.
It seems like everywhere we turn we hear another horrifying story of a cybersecurity scam. With digital banking and payment technology advancing rapidly, fraudsters are taking advantage of both the increase in technology and the increase use of digital.
P2P payments are one example. More than 1 billion individuals around the world and 70% of Americans now use some sort of P2P payment app, but these apps can be vulnerable to cybercrime.
Early Warning Services, the developers of Zelle®, just introduced a new data strategy to tackle this specific problem, protecting users from both scams and fraud. They've layered multifactor authentication (MFA) with ML to better protect users, beginning with the enrollment process[3].
Technology checks behind the scenes to validate that the user is who they say they are. With the use of data, they can even access and evaluate the risk profile of an email address. Zelle also relies on its AI-based pattern recognition system to locate suspicious transactions that could predict fraud before it happens[4].
Payment data provides real-time decisions in who, how, and when we pay.
In the last two years, we've seen an explosion in digital payments. With faster payment technology, comes additional payment rails to choose from, alongside options in payment delivery timeframes and methods.
This leaves merchants and their payment service providers with the challenge of offering the right payment methods at the right time. Most merchants these days provide two or more payment options, but the challenge is choosing the right mix.
The average shopping cart abandonment rate is 65%. Not having enough payment options accounts for 7% shopping cart abandonment[5]. Fintech and big tech firms are capitalizing on this trend by using data to offer a more streamlined approach at checkout.
PayPal® has introduced Smart Payment Buttons, which based on location and other key data, specific options can be set up by participating merchants that dynamically present payment options that are more relevant to each customer. This also helps merchants create a more targeted personalization strategy.
Better data brings smarter credit and lending decisions.
Many fintech firms today lead in this area by building and deploying AI/ML underwriting models that quickly meet evolving compliance and regulatory hurdles. The COVID-19 pandemic emphasized the need for ML underwriting with the uncertain economic environment.
Use of alternative data sources has also increased in the lending space. Alternative data sources include a consumer's payment history on items not included in a traditional credit report, such as rent, cell phone, utilities, or other bills; a consumer's use and repayment of alternative loans; and bank account transaction data. This type of information allows fintech's and FIs to optimize data to identify creditworthy consumers, speed up the approval process, and better predict a consumer's ability to make a payment.
Developing a data strategy is critical.
Advanced data analytics only produce value if the FI has the means to access, extract, and store the value. Most banks and credit unions are still stuck in the world of data silos where one department enters its data into a system never seen by the rest of the organization.
Now is the time for banks and credit unions to prepare a data strategy. Some key initial steps include:
Look at what industry leaders are doing with data analytics to better understand potential capabilities and opportunities.
Determine one or two best-use cases suited for your FI that match your business objectives.
Research fintech partners that can help leverage and customize analytics for your particular needs.
Access internal processes and infrastructure to enable easy access to and utilization of cross-business raw data.
Ensure that a well-defined strategy and a clear roadmap are in place.
Taking a proactive approach to data within your financial institution will reap both short and long term rewards by enhancing end user relationships, monetizing payment processes, and remaining competitively strong.
---
[1] Innovation in Retail Banking, Digital Banking Report, October 2020
[2] AI for Payment Optimization: Current Practices and Use Cases, PaymentsJournal, February 2020
[3] Zelle: The Role Of AI In Stopping COVID-Related P2P Payment Scams, Pymnts.com, October 2020
[4] Preventing Financial Crimes Playbook, Pymnts.com, October 2020