Author: Lauren Gleim, lgleim@jackhenry.com
"Hi there, I'm Lauren. Nice to meet you!" It takes just a quick glance to evaluate someone when you first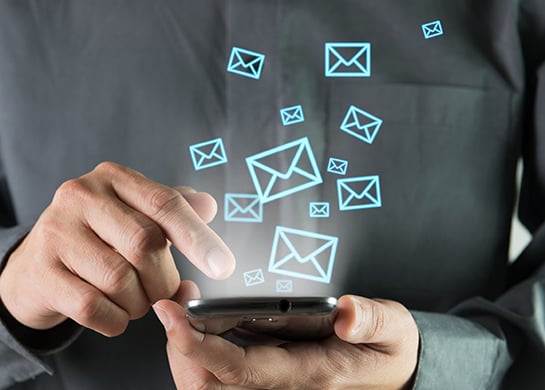 meet them. First impressions establish the relationship and are hard to reverse. No pressure, right? When you first meet someone whether in a social setting or at work, you engage with that person. A friendly smile and a handshake can go a long way. Just like you and me, your customers are people and our interactions with them can dictate the direction of that relationship. Customer engagement can set you apart from the competition and is driven by your ability to personalize that customer experience. Even if you can't interact with your customers face-to-face, you can still create a personalized interaction through email marketing. Email remains the ultimate form of communication with your customer (techradar). Start your customers' experience off right with these 4 recommendations:
Base emails on Customer Behavior
Don't be late when you meet with customers even when it comes to emails. The opportunity to interact with your customers on time is there. Send emails based upon their site behavior in your product. Use email as your digital handshake and establish a connection in the beginning. Say hello with a welcome email when they enroll in online banking or bill pay. If John Doe hasn't logged into this account in a month, tell him you miss him with an email reminding him about your features/services. Use these customer behaviors to create your email customer journey.
Personalize Your Email Interactions
The average customer sends or receives 121 emails per day (The Radicati Group). Make your emails count! You are competing with emails from family members, social media notifications and other promotional materials. Present your brand by adding your institution's name and logo to your emails. Go a little further and add personalized customer content including your customers' first name and the last 4 digits of their account. Opening emails with personalized information establishes trust and builds authenticity with your brand.
Educate Your Customers
Emails are not only about generating sales, you can use them for educational purposes. As you send a welcome email to your new customers, highlight features of your online banking and bill pay platforms. Educate them with demos, landing pages and tips. Consider this the "getting to know you" stage of your customer journey. Let them understand what your institution has to offer.
Add Social Media Buttons
Are you connected through social media? Include these links in your emails to customers. When you meet a new friend the next natural step is to friend them on Facebook or follow them on Twitter. Your customers are the same. They want to stay connected through any avenue you offer whether email, your website or social media. Keep them posted.
Small additions to emails make a large impact on customer engagement with your institution. In last month's blog by Barbara Vega, she underscores the importance of attracting and retaining customers through strategic marketing. Be strategic with your email marketing initiatives and use your digital marketing tools to your advantage. Form a positive customer-centric first impression.The iPay Resource Center has marketing materials to help you with your email marketing customer journey. Don't miss out on FREE marketing!