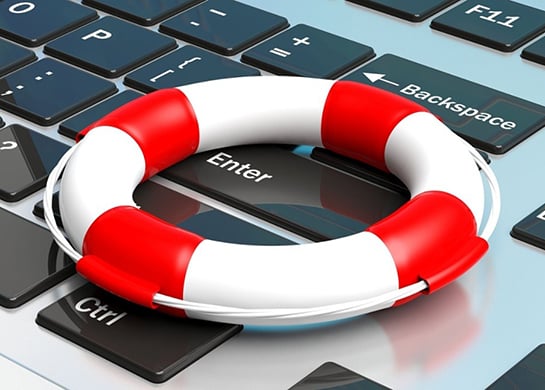 If you were to thumb-scroll through my inbox, you'd see close to a dozen vendor emails each day, desperately trying to disrupt technology as it relates to people. It runs the gamut from the sure-fire engagement fix, the cloud solution one can't possibly live without, or a talent assessment that guarantees to screen out the ill-equipped. I've come to adore our one-click unsubscribe feature and toss them into the abyss.
While it is annoying and cluttering to the inbox, there are some legit strategies that we shouldn't shove out to sea – especially considering the GAFA (Google, Apple, Facebook, and Amazon) jaws that are ready to chomp.
This doesn't mean we need to exhaustively flail our arms until we drown, but I wouldn't recommend lying on your back with your floaties on, either. If you're thinking, "That won't happen here" and you keep treading water, you'll be in for a surprise. If you're not productively paranoid (Great by Choice, Jim Collins), the undercurrent will suck you under water. Goodbye, FI.
Here are four survivalist tactics that – if tenaciously practiced – will move and shake the FI space.
Survivalist Tactic #1: Re-Engineer Processes
Picasso said, "Art is the elimination of the unnecessary." Same goes for processes. Frictionless processes are a must-have to survive. They allow people to focus on being productive versus busy and creating meaningful work instead of fighting fires. The challenge is this: to smooth out processes, you must start over. Re-designing processes is relatively straight-forward, although it does require time. But remember this: You must have the courage to go underwater so you can plug the boat. Otherwise, you'll just keep bailing. Trust me, you'll love yourself later for it.
Survivalist Tactic #2: Automate Workflow
Once you have the process re-defined, find a tool to help automate the workflow. By outlining the process through people first, the productivity push is easier to achieve. There are automation tools that can help engage your workforce and further drive productivity and performance throughout your FI. And speaking of performance …
Survivalist Tactic #3: Continuously Manage Performance
Still stuck in your annual performance review cycle of death? It won't work much longer (and you're lying to yourself if you think it's working now), especially as millennials continue to march into the workplace and become established. The future of performance management looks like this:
Time and energy spent on rating and commenting is alleviated.

Focus on what the FI is doing and how it's being achieved.

You and your direct reports have more clarity on how to grow and develop.

Have performance conversations centered on how you can do more in the future vs. a rating on what you did in the past.
Doesn't sound so bad, right? If you use Tactic #1 and #2 to redesign your performance management process, you'll be a leap ahead on Tactic #3.
Survivalist Tactic #4: Captain Data
Just like you need data on your consumers, you need data on your people, processes, and pain points. You'll never make better decisions unless the data is there to question your assumptions and elbow you in the face about your biases. Pick 2-3 metrics that matter to leadership and then work to accurately measure them (hint: if #2 is in place regarding a process, certain analytics should be built in).
There's beauty in the order of this survivalist list. Don't go into it like a banshee and start with data first. Data is only as good as its source. Start with process re-engineering – focus your people on being productive and less busy by re-engineering the flow of work together (i.e., set up small project teams to re-invent a process and reduce the friction). As teams learn collaboration through process improvement, capitalize on this experience by continuing to engage and drive your workforce through a process automation tool. This will help refocus people on being productive and the sense of value derived from awesomely achieving an outcome.
Once you've got those two tactics anchored, rethink performance management and make incremental process improvement steps (collaboratively, through the ideas of your people… see Tactic #1 and #2). And, finally, keep the ship sailing true north by measuring the benefits with data.
Wash, rinse, repeat. Before you know it, you'll be an agile FI who can outsmart any GAFA-like shark.
Onward and upward!