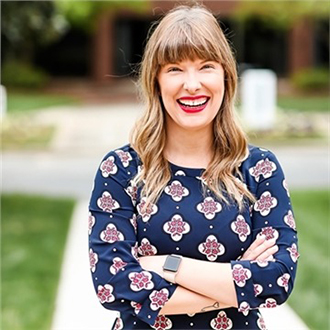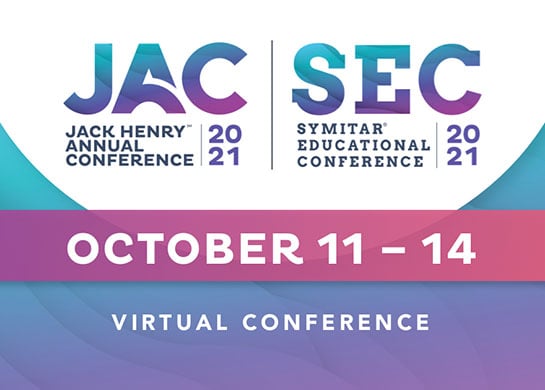 Well, folks, that pesky word "pivot" is still alive and well. Over the summer, COVID-19 cases were trending in the right direction and the country was well on its way to what felt like normal. I personally was gathering with family, dining inside at restaurants, reconnecting with friends, and looking forward to attending the JAC|SEC in person in Phoenix, Arizona. Then the Delta variant came along.
Jack HenrySM is a company dedicated to doing the right thing, which meant a difficult decision to keep people safe: pivoting once again to a fully virtual format. While I was (selfishly) disappointed to learn we wouldn't physically be together, I was also appreciative of this company for standing by and living up to its principles. And because they put together two killer virtual conferences in 2020, I knew Jack Henry would do even better in 2021. And that they did.
With nearly 2,000 bank and credit union representatives in attendance, the first ever combined JAC|SEC (Jack Henry Annual Conference & TechConnect and Symitar® Educational Conference & TechConnect) was a huge success!
Sessions & Educational Content
There was amazing, valuable content from all the presenters in both the on-demand and live sessions (where attendees asked some great questions). One particularly well-received session, "The Future of Digital at Jack Henry," was presented by Head of Digital at Jack Henry, Ben Metz. Ben discussed open banking, platform strategies, and crypto options; and generated a lot of buzz on social media with comments like, "Awesome session! It's inspiring to see Ben's vision come to reality!"
And of course, keynote speaker Simon Taylor, Co-Founder of 11:FS was a smashing success. In his opening address, Simon pointed out that "to play the game … you have to get your basics right, and you have to make sure you're doing it in a secure way and you have APIs in place. But to win at the game of data-driven finance, then you have to get good at using data to drive the experience for your consumer. And if you do that, you can win at digital." Among rounds of virtual applause, we heard "This was an excellent start! Thoroughly enjoyed the conversation around open banking!" and "Simon was very informative. I will be replaying his session to ensure I get ALL his key points."
Not to be outdone, the On-Demand Library was a big hit, too: "Great conference! Thanks so very much for putting together a great virtual conference – and I'm excited to spend time reviewing the on-demand sessions. Look forward to being in person next year." With session tracks that ranged from maximizing revenue to getting the most out of your core, this year's agenda seemed to have something for everyone. (By the way, session recordings will be available in the Attendee Hub until November 30, 2021. After that, you can access them in Jack Henry University.)
Community Engagement
On top of the wonderful educational content, there was also a lot that the conference did to bring communities together. This year, Jack Henry partnered with The American Red Cross to help victims of disasters like wildfires, floods, and hurricanes; and Feeding America to support families facing hunger – a hardship that's only been made worse by the pandemic. Almost 300 people registered for the annual Run with Jack Henry – between registration, additional donations, and matching contributions, an incredible total of $10,000 was raised for (and 2,000 comfort kits donated to) The American Red Cross and 2,000 meals were donated to Feeding America.
Then there were the stories of impact and engagement that were shared in the Community Corner! One of my favorite stories that came out of the sharing activity is about a client that stepped up in a big way during the worst of the pandemic. They turned off all fees from March through September, allowed unlimited skip-a-pay options for loans, stopped repossessions (before it was even mandated), and offered 0% loans for those with an immediate loss of income due to business closures. What a perfect example of going above and beyond.
Here's to Next Year
I don't know what the future holds, but I'm hopeful we'll be together in person at next year's conference. In the meantime, I'm proud of the resiliency the Jack Henry and Symitar communities have shown in the face of setbacks and challenges. The stories and messages shared at this year's JAC|SEC further prove that these banks and credit unions are embracing change and turning those setbacks and challenges into opportunities for growth and revitalization. That's something I'm honored to be a part of.
Hope to see you all August 29 – September 1, 2022 in San Diego, California. Here's to next year!
Looking for more insights from the 2021 JAC|SEC? Take a peek at our
for conference stats and download our
for actionable tips from this year's conference.