Capabilities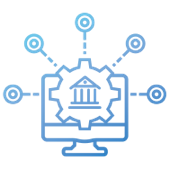 Open Banking
Suppose you've found a fintech application that's a perfect fit for your services suite. The new solution would help you attract and retain accountholders. But how easily can you integrate it with your platform?
With Banno's open API and digital toolkit, innovation is quick. Our API gives fintechs direct access to our technology, so their solution can join your other services in a unified environment. Accountholders can log into your app once and gain access to all other tools. By giving you and other developers access to the API as well as our design and authentication frameworks, the possibilities are practically endless when it comes to crafting innovative and custom solutions.
Learn how you can build functionality into the digital banking experience with the Banno Digital Toolkit.
Get in touch with a Jack Henry Digital expert for details.
CONTACT US