Capabilities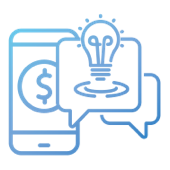 Augmented Chat
The need has never been greater for better ways to assist banking customers and members remotely. Accountholders want personal, one-to-one service, but they also need convenience. Today, we must help customers and members at their moment of need – on any device.
Jack Henry Digital's answer to this demand is secure, core-connected chat conversations. Your employee using contextual chat has full visibility into the user account, just as if your accountholder was in a branch. They can both attach and share documents, and your employee can transact on your accountholder's behalf. From the institution side, tellers can handle multiple conversations at once with simple management tools. And all conversations are stored, making them easily auditable.
Enable secure, authenticated chat to connect your accountholders and employees digitally.
Get in touch with a Jack Henry Digital expert to explore the benefits.
CONTACT US